Today is Leap Day, an extra day every four years to get more work done, have some fun (creative or otherwise), or try something completely new. Last Leap Day, I was in the process of saying goodbye to a key member of my market research team as she left for an exciting new market research job.
Leap Day 2012, however, will be much more fun than in 2008.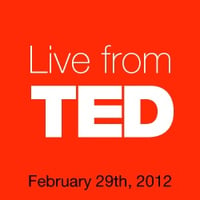 This Leap Day I will be with the rest of The Brainzooming Group at the Nelson Atkins Museum in Kansas City to watch the 2012 TED simulcast. The 2011 TED simulcast was incredible, and a very different experience than watching individual videos. It was also tremendously taxing after live tweeting all day.
This year, I will probably do some live tweeting, but will try to add some creative variety. Maybe it is a good opportunity to even try illustrating some of the TED simulcast presentations. That would really be a creative stretch worthy of Leap Day since I sketch, but not nearly as fast as I live tweet!
Here is the schedule for today's 2012 TED Simulcast:
Session 4: The Lab (10:30 am – 12:15 pm CST)
Session 5: The Earth (1:00 pm – 2:45 pm CST)
Session 6: The Crowd (4:15 pm – 6:00 pm CST)
Session 7: The City (7:00 pm – 8:45 pm CST)
My live tweets will be either on the @Brainzooming Twitter account and/or my live Twitter account at @BZLiveTweets. You'll be able to follow 2012 TED Simulcast tweets with the overall #TED hashtag on Twitter as well. If you're at the Nelson Atkins Museum for today's sessions, tweet or DM me! – Mike Brown
Download the free ebook, "Taking the NO Out of InNOvation" to help you generate fantastic creative ideas! For an organizational creativity boost, contact The Brainzooming Group to help your team be more successful by rapidly expanding strategic options and creating innovative plans to efficiently implement. Email us at info@brainzooming.com or call us at 816-509-5320 to learn how we can deliver these benefits for you.