Today, I'm delivering a new Idea Magnets workshop on Finding and Sharing Your Brand's Extraordinary Stories on Social Media. The venue is the Social Media Strategies Summit in New York. Within the workshop, we're applying the Idea Magnets creative leadership formula to brands that want to improve the resonance and impact of the social-first content they create.
For the workshop, we solicited participants' questions and expectations in advance. One desired take-away they shared was figuring out how to get the most from the stories their brands develop. To come up with a new Idea Magnets creative approach to the question, Emma Alvarez Gibson and I turned to one of the most famous stories of the last forty-plus years: Star Wars.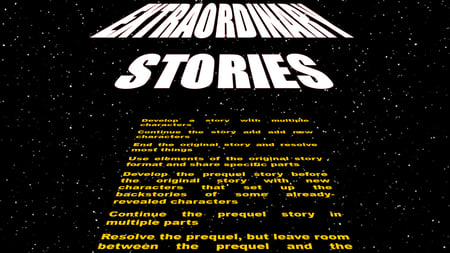 Think about all the variations and extensions of the Star Wars story! We translated all those twists and turns to create this list of seventeen ways to extend your brand's extraordinary stories:
Develop a story with multiple characters
Continue the story and add new characters
End the original story and resolve most things
Use elements of the original story format and share specific parts
Develop the prequel story before the original story with new characters that set up the backstories of some already-revealed characters
Continue the prequel story in multiple parts
Resolve the prequel, but leave room between the prequel and the original story
Refresh the original story with new storytelling techniques & previously unused material
Create events allowing the audience members to immerse in the story
Hand the story to a new creative leader to develop a sequel that happens after the original story
Continue the sequel in multiple parts
Select specific characters and build new stories around each of them
Select an as-yet-untold story and focus on answering big, lingering questions related to it
Adapt all parts of the story for different audiences with different media preferences
Let users create content stories from the original characters and story lines
Invite other professional communicators to re-imagine the story with their preferred storytelling methods
Extend the legacy of a few characters through to the next generation of the story
Want to go further to exploit extraordinary stories? Download our FREE eBook with forty-nine questions to inspire extraordinary brand stories.
Want to up the game on your Idea Magnet creative leadership skills? Then get your book or Kindle copy of idea Magnets – 7 Strategies for Cultivating & Attracting Creative Business Leaders today on Amazon! – Mike Brown
49 Idea Magnet Questions to Attract Your Brand's Extraordinary Stories
Developing and sharing extraordinary stories that resonate with your brand's most important audiences is an important key to branding success.
49 Idea Magnet Questions to Attract Your Brand's Extraordinary Stories puts ALL the powerful questions at your disposal to identify, develop, and share authentic stories. It introduces multiple strategies that Idea Magnets use to:
Make unexpected connections and generate story ideas
Encourage people to share experiences that lead to memorable stories
Tell stories through effective techniques that intrigue and engage audiences