By and large, hotel meetings rooms suck for actually encouraging people to collaborate and work productively.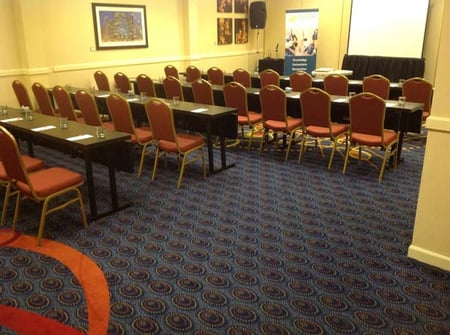 That's why I find myself so frequently trying to manipulate hotel meeting rooms in ways that hotel proprietors never imagined. Most of the time we have to go well beyond what hotels consider standard ways groups will use their meeting rooms when we're trying to create an effective space for a Brainzooming creative thinking workshop.
12 Reasons Hotel Meeting Rooms Suck for Collaboration
Based on the challenges we typically encounter, here's my basic list of twelve reasons why hotel meeting rooms suck:
The seating plans cram too many people into rooms to the point where there is no room for people to spread out and think
The room configurations don't allow for people to move around and collaborate with each other
Valuable wall space (where people can place and react to ideas) is taken up with ugly, bland artwork
They place lights in front of the areas where they set up screens to project images
If there are lights where you need to put a screen, they are always on switches tied to half the lights in the front of the room
They insist on putting the food and beverage in the meeting room where it takes up wall space and/or makes the room stink (instead of using the hallway for food service)
Too many big hotel ballrooms have very low of ceilings so you can't raise a screen high enough for people in the back to see it
In their room setups, they have no concept of presenters that don't remain in one spot at the podium
There is never enough room for two different seating configurations that would allow people to move into a new setting for a different activity
They place U-shaped table configurations nearly up to the screen so there's no room to move about
They insist on skirting things you may need to move around, such as AV carts, screens, and extraneous tables
They typically have all kinds of big, impressive hall space that goes unused
Even at at the last minute, however, you can try things to improve these meeting spaces to boost collaboration.
Last Minute Changes to Boost Collaboration
All those frustrations surfaced the other day as I was pacing back and forth in front of an open hotel meeting room door where I was getting ready to facilitate a Brainzooming workshop. Since it was such a quick turnaround to fly to Chicago to facilitate the workshop (and it was tucked into a much longer meeting), I had no opportunity to influence the room setup.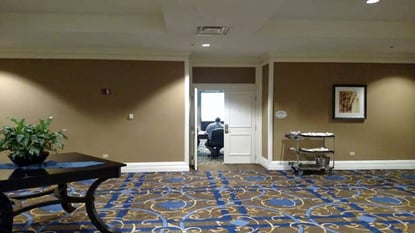 Pacing in the hallway and trying to sneak peaks at the meeting room through an open door, I noted incredible wall space outside the room, and no other meetings were taking place. Thankfully, our client agreed with taking the workshop "outside" into the foyer. After the first poster-based exercise, everyone went into the hall for the rest of the Brainzooming workshop. SUDDENLY, we had all the room we needed to boost collaboration.
Yay for flexible clients, lots of wall space in the hall, and no other meetings!
If not for those, a successful creative thinking workshop would have been VERY DIFFICULT to keep from sucking.
Which is one more reason why hotel meeting rooms suck. – Mike Brown