A client of ours is active in NASCAR racing, so I was watching a race recently to see how the brand was performing in activating its sponsorship strategy. Watching a race with a clear business reason once again, I started thinking about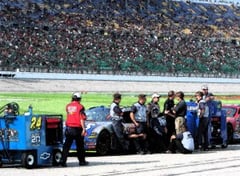 the similarities between NASCAR racing strategy and business strategy. Once you get started, it's clear there are many points tied to business (beyond sponsorship strategy) you can learn more about from watching NASCAR racing:
You may think you know the rules, but they're always subject to change by higher authorities.
The fastest and best competitor may not always win. They need to be smart too.
The person on the track gets the attention, but there's a great team behind any success.
A lot of success happens because of good testing, good notes, good practices, good processes, & good prep.
Partners are great, but don't build your whole strategy around partners being there when you need them.
It's always the same people that crash, and it has nothing to do with bad luck.
You have to both go hard AND protect your equipment if you hope to be around at the end.
Even the "good guys" would do well to show some fire & passion so you know they care.
There are multiple generations involved, and each generation has something to learn from the others.
Wins are important, but consistent, strong performance turns short-term winners into legends.
It may feel like you're going in circles, but it'll end at some point & somebody's gonna win.
How about it NASCAR racing fans? What else would you add to this list? - Mike Brown
The Brainzooming Group helps make smart organizations more successful by rapidly expanding their strategy options and creating innovative plans they can efficiently implement. Email us at brainzooming@gmail.com or call us at 816-509-5320 to learn how we can help you enhance your brand strategy and implementation efforts.