There were so many great reactions to a previous post on 10 ways to be creative like a kid. I've had emails, tweets, in-person conversations, and even a business newspaper interview about the ideas for adults to be more creative by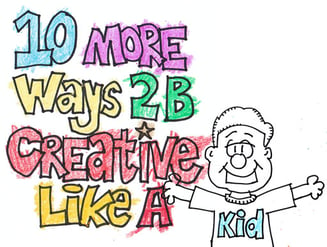 doing what kids do. When you get that kind of response, what else do you do, but come up with 10 more ways to be creative like a kid!
Don't do things in the suggested order. Do them in whatever order you want to do them.
Don't eat your food; play with your food! Sculpt your food into a monster.
Run down the hall to a meeting when you're late.
Talk to the person next to you throughout a meeting. Or pass notes. Or both.
Put some oversized paper on the floor and sketch your BIG dreams and ideas.
Go outside for recess twice a day to get some fresh air.
Have a whole meal of triangle-shaped food - pizza, Doritos, cheese, pie, you name it. If it has 3 sides, eat it!
Demand a really outrageous dessert - a skyscraper ice cream soda, a hot fudge brownie delight, or a chocolate chip cookie with ice cream on top. Clap when you first see it and laugh when you eat it!
Create some funny alternative words to "Jingle Bells" or another well-known song.
Stay up WAY past your bed time playing, reading, or telling scary stories!
What other ideas or stories do you have to add to the list of fun ways be creative like a kid?– Mike Brown
To tap into your own extreme creativity, download the free ebook, "Taking the NO Out of InNOvation" to enhance your creative perspective! For an organizational creativity boost, contact The Brainzooming Group to help your team be more successful by rapidly expanding strategic options and creating innovative plans to efficiently implement. Email us at brainzooming@gmail.com or call us at 816-509-5320 to learn how we can deliver these benefits for you.