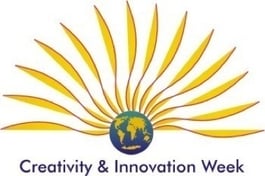 To commemorate World Creativity and Innovation Week, here are some of the top viewed extreme creativity-oriented articles on the Brainzooming blog since last year's World Creativity and Innovation Week.
5 More Extreme Creativity Lessons from "Cake Boss" – Sharing lessons from Buddy the Cake Boss is like creating a magnet for great innovation. This follow-up from the original Cake Boss post actually takes off into space!
9 Extreme Creativity Questions from Peter's Laws – A fun set of questions you can use to prompt more extreme creativity and innovation.
Protecting Your Creativity in a Culture that Doesn't Value It – If you're trying to create a more creative culture, you've got to protect yourself while you're at it.
Diet Coke Can Redesign – Branding and Creativity Lessons – Coca-Cola made some big packaging changes to iconic brands this past year. The white Coke can didn't work, but the Diet Coke change worked.
4 Extreme Creativity Lessons from "Lady Gaga Presents the Monster Ball Tour" – I've had second thoughts about this post, especially since the video that inspired it disappeared from YouTube. Even though I disagree with a lot of what she puts forward as awakened thinking, these four lessons hold up.
14 Ideas for Creativity Boost this Work Week – This is a solid list to return to when the work week is sapping your innovative spirit and you need a creativity boost.
Focused Daydreaming – A Practical Tool from Chris Griffiths – One of a couple of guest posts on this list, Chris Griffiths provides a creative rationale for letting our minds wander!
10 Lessons to Integrate Creativity in Business – #BMAUnleash Panel – A panel discussion recap from the 2011 Business Marketing Association conference, there are some true creative gems in here, especially from Randall Rozin at Dow Corning.
Create an Extreme Creativity Makeover Project Team – Why not have a really fun, creative job title, especially if it helps counteract your boring traditional job title?
Space and Creativity – Woody Bendle weighs in on 3 different types of space that enhance your creative pursuits.
Extreme Creativity – 10 Brainstorming Questions from Diners, Drive-Ins, & Dives – I love watching reality TV shows that yield great lessons, especially extreme creativity lessons. Here are 10 brainstorming questions from sitting through lots of great looking food on Diners, Drive-ins, and Dives.
2012 TED – 8 Takeaways on Extreme Creativity and Amazing Innovation – The 2012 TED simulcast was uneven at best, but that doesn't mean there weren't still some great extreme creativity lessons to take away!
5 Lessons from the Guy behind the Facebook Like Button – One of my favorite things to read each week is the creativity column in the Saturday Wall Street Journal. This one in particular contained very valuable lessons from a key Facebook designer.
Pictures (of Creativity) Are Worth a 1,000 Words – Despite repeated vows to do more with images on the blog, images still take center stage too infrequently. These creativity pictures were a great substitute for writing a bunch of words, though.
Creativity, Innovation and the Intrepid Radio Podcast – Whether online, in-person, or via podcast, Todd Schnick always prompts a great creative discussion. Here's our talk about creativity vs. innovation and what the differences are.
I hope you'll enjoy clicking back to a few of these posts since last year's World Creativity and Innovation week. If everything goes as planned, we'll be announcing a new eBook soon that's part of a bigger effort to encourage and energize organizations to embrace new thinking from within their workforces. Stay tuned! - Mike Brown
The Brainzooming Group helps make smart organizations more successful by rapidly expanding their strategic options and creating innovative plans they can efficiently implement. Email us at info@brainzooming.com or call us at 816-509-5320 to learn how we can help you enhance your strategy and implementation efforts.