At a recent keynote presentation, an attendee asked me who should facilitate strategic planning for your company - someone outside or inside the company?
As I told the audience, a big part of what we do is offer strategic planning facilitation and development for clients. Yet the Brainzooming methodology started when I was facilitating strategic planning INSIDE our corporation.
Since we've had success in facilitating strategic planning from both insider and outsider roles, my answer was, "It depends upon the person and the situation."
10 Vital Characteristics for Someone to Facilitate Strategic Planning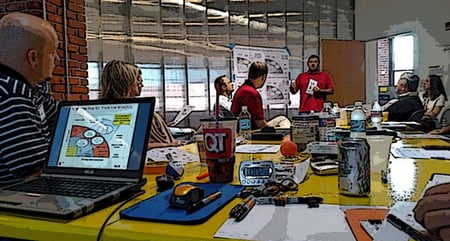 Relative to the personal side of strategic planning facilitation, here are ten characteristics to look for in the person facilitating group collaboration-oriented strategic planning for your organization:
Strong listening skills - to entire interactions and to bits and pieces of interactions, to what is being said and what isn't being said
The ability to put pieces of ideas together to make them stronger
They either don't have a stake in the outcome or can put those interests aside
Somebody that's funny, glib, and quick on his or her feet
They have at least a basic knowledge of the topic
The person is smart and strategic
They understand structures and relationships they can apply to even unfamiliar industry settings
Willing to both serve and challenge participants
Have a strong grounding in business, creative, innovation, and strategic principles
Have adequate time to prepare to facilitate
As you can see, these personal characteristics for strong strategic planning facilitators work irrespective of whether someone is inside or outside the organization.
It is definitely viable that a facilitator from inside the company can lead strategic planning.
Want to have someone outside your company make your strategic planning work for you in a creative, mentally stimulating and result-oriented way? Then contact us at The Brainzooming Group and let's get started working together! – Mike Brown
Leaders need high-impact ways to develop employees that can provide input into strategy that turns into results. This Brainzooming mini-book, "Results - Creating Strategic Impact" unveils ten proven lessons leaders can use to boost collaboration, meaningful strategic conversations, and results.
Download this free, action-focused mini-book to:
Learn smart ways to separate strategic opportunities from the daily noise of business
Increase focus for your team with productive strategy questions everyone can use
Actively engage stakeholders in strategy AND implementation success