If you invent your own instrument, you're automatically one of the top three musicians in the world on that instrument." - Matt Goldman, Co-Founder of the Blue Man Group (August 2008 "Inc.")
Reinventing your way into a position of advantage is a strategic concept any of us can apply personally or in business. What is an instrument, tool, process, or category that you can invent which creates a new area where you are, by definition, one of the best performers in the world?
Here are some exercises to answer that question.
Identifying Your Distinctive Talents
Distinctive talents are skills closely associated with you where you continually improve as you do them, you benefit others, and you create a spark that attracts people to be a part of the energy you're radiating. Building your list of distinctive talents begins with answering these questions openly & honestly:
What things motivate you to get up every morning?
How are you of the greatest service to others?
What activities bring you the most happiness and contentment?
What functions, talents, and skills do you (or have you) used that give you the most fulfillment in your professional life, family relationships / duties, spiritual life, and personal interests / hobbies?
How would you spend your time, talents, and attention if you didn't have to work?
Hint – Stumped for answers in some areas? Ask a few acquaintances what they think your distinctive talents are.
After answering all the questions, go back and circle the 5 or 10 or 15 answers that truly fit the distinctive talents definition. Since these areas are likely to be the most intuitive for you, you think less about the mechanics of doing them and simply perform them really well. This makes them ideal to incorporate into creating a new "category" where you'll be the best in the world.
Look and Ask Around
A 360 degree survey can be scary, but it's a great tool to get a sense of how others perceive you. It can be tremendously instructive and beneficial. I did one through a leadership class several years ago that really helped me redefine some of my behaviors. There are various ones available online.
Another fast way to get some sense of potential areas you can use to define "your category" is to ask yourself and others three value-related questions:
What are the TOP 3 things I do that ADD INCREDIBLE VALUE for others?
What are the TOP 3 things I do that DON'T DELIVER INCREDIBLE VALUE for others because we can't/don't focus enough time, attention, and/or resources on them?
What are the TOP 3 things I do that ADD LITTLE OR NO VALUE for others?
Look for themes among the answers and consider using areas of incredible value as potential category definers. Areas where you could deliver value but don't are potential opportunities for more concentrated effort. Areas where you're delivering little value could be areas to attempt to eliminate from your routine.
Soliciting reactions about yourself from others may feel intimidating, but assessing and using the responses wisely gives you an advantage most people are unwilling to pursue.
Identifying Ways to Transform Yourself
Yet another way to ideate on a strong "personal" category is to use your current personal strengths and deliberately transform them to identify new and distinctive possibilities. Here's a relatively quick approach:
State your objective as "Building a distinct personal category to define and differentiate my value to others."
List 8-10 of your distinctive talents and areas of incredible value as Attributes in the left column in the grid below.
Using the objective from Step 1, take each talent and value area in Step 2 and transform them in the various ways suggested below, always asking: "To create a new personal category how can I (INSERT TRANSFORMER FROM BELOW) to / of (INSERT STRENGTH OR TALENT)?
Potential Transformers include Make It Bigger / Do More of It, Make It Smaller / Do Less of It, Replace It, Turn It Around, Remove It, Standardize It, Customize It, Make It More Complex, Simplify It, Eliminate It
Run through as many combinations as you can, trying to generate 2 or 3 new ideas form each pairing. Don't settle for fewer than 60 possibilities that could fit into your personal brand category definition.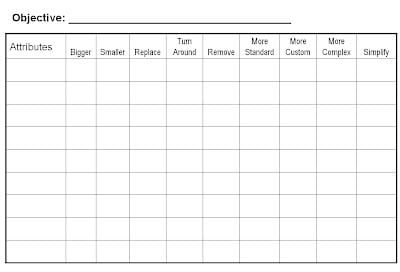 Next, we'll narrow all the possibilities to get close to defining your category.
Prioritization and Creating the New You!

After working through the previous three exercises, you should have a wide variety of potential possibilities as input into your distinctive personal brand category.
So what are some steps to dramatically narrow the list of ideas? Here's a flashback to some previous posts you can use to narrow your possibilities:
Try to narrow to 10-15% of your original ideas, and then begin looking for elements that you can put together to create a new category with which to describe your talents.
Ideally your personal category should be distinctive and defined in a way that you become the only answer to, "Who are the best people who can do this?" - Mike Brown