We've spent time on Brainzooming talking about recycling ideas, yet haven't touched on recycling physical materials. That changes with today's guest post from Nancy Martini. She's an Art Director and EcoArtist (as she's known on Twitter), working with reclaimed materials.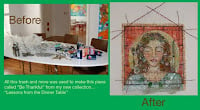 Nancy's currently working on a collection called, "Lessons from the Dinner Table." All the pieces contain environmental messages translated from simple lessons learned at the table. Her work consists of 95% upcycled materials: plastic bags, soda cans, coat hangers, plastic bottles, bottle caps, foil, wire, cereal boxes, egg cartons, tin cans, and gift wrap tissue. You can see her process through videos on her YouTube channel.
Today, Nancy provides her view on the need for creativity as the concept of upcycling expands:
Reduce, reuse and recycle are three words that haunt me everyday. How can I use less? What can I do to reuse what I already have? And, what more can be recycled? Now, the latest environmentally conscious word "upcycle" has proven to be even more of a challenge. It is easy to understand the process of recycling by means of breaking down a material then using that material to make something new. However, the idea of creating a second life for a package or product from its inception is a complex concept that needs more explaining and exploring.
Ten years ago, you didn't see many people bringing cloth totes to the grocery store. I remember having to explain my totes repeatedly to cashiers. Sometimes they would even pack my groceries in a paper sack and then put it in my cloth tote. Change does happen, but it takes time and education.
When I see people bringing their own totes to the grocery store now, I can't help but wonder if they think about all the plastic in their purchases. What happens to the packaging after we use its contents? Recycling should be the last resort, not a justification to buy whatever we want because we can always toss it in the recycle bin.
Recently at the grocery store, the early morning staff was stocking shelves. Each worker had a few garbage bags filled with plastic shrink-wrap and cardboard from unpacking merchandise off wheeled crates. "All the shipping packaging is going to be thrown away," I was told. Disheartened by this obvious disregard for the environment behind the backs of the consumer, I thought about products and their packaging and pondered:
What if containers were designed with an upcycled second life for the packaging so it wouldn't go to the recycle plant or landfills?
What could we build or create with discarded packaging?
And, what if we could then change the way food companies produce packaging?
As I continue on my quest to upcycle packaging to create art, I encourage you to think of the possibilities that upcycling brings. I would love to hear your comments - the more creative collaboration, the greener the path. - Nancy Martini