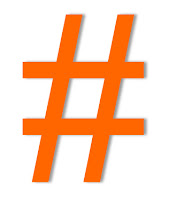 Hashtags function as keywords on Twitter, making tweets more easily searched and grouped by topic. I've been using various ones lately, and blog pieces the next few days will expand on a few hashtag themes beyond Twitter's 140 character limit.
Today's starts with the #StrategyLesson hashtag I've been applying to tweets recapping strategy observations from the work day:
You're right to be suspicious when someone says they want your best thinking, and they want the answer tomorrow morning. Strong strategic thinking takes time. Great strategic thinking tools shorten the time needed and make it much more efficient, but time still paves the way for new possibilities to emerge. Ask for more time.
You don't HAVE to do things because of customers or competitors; do the right things for what you want to achieve. Ask, "What matters?" to ensure you're focused on results and not manipulated or bound by expectations - even customer's expectations. Start with the desired result and work backward to set your strategic agenda.
A really solid, clear strategy can usually get taken apart, put back in a different order & still make sense. It's hard, but if you think through and hone your strategy to the essentials with each word packing lots of meaning, you can typically start from the broad or the specific and still demonstrate sound logic.
You don't have to say everything you know: Mystery = Maneuverability. This is tough for many people, who aim to answer questions thoroughly. Answering a question doesn't mean you have to share everything. Leaving some virtual white space allows you to expand, contract, shift, or redirect without anyone having to know any better.
It's possible that your best strategic thinking COULD come over drinks & appetizers at happy hour. Sometimes part of thinking about your strategic opportunity differently simply comes down to thinking about it in an unfamiliar place. Something that worked recently was going to a great happy hour where two of us were able to generate a fantastic list of ideas amid incredible tapas, good wine, and several innovation techniques.
What strategy lessons have you learned this week? Share them in the comments section or on Twitter using the #StrategyLesson hashtag. - Mike Brown