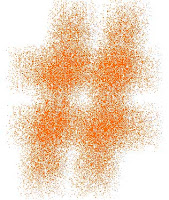 Joan Koerber-Walker started the #BeOriginal hashtag as a response to all the recycling of old ideas going on in Twitterville. Joan's been a great friend of the Brainzooming blog, offering encouragement and great guest posts - including several extra for a rainy day if I run short on content!
Here are a few thoughts on creativity I've contributed to Joan's #BeOriginal Twitter list:
Les Paul guitar. Bo Diddley rhythm. Chuck Berry guitar licks. What have you or I done to create enduring "signatures"? There's a point where a signature element can become a creative rut. But for most of us, we have a long way to go to get to that point. Step 1 is identifying our talents and consistently applying them to develop a creative signature truly our own.
Something to strive for: Respecting your critics & seeing the beneficial points in their comments. You'll be better for it. It's not fun to have people criticize your work. But often, your critics are doing more to move you toward creative excellence than your most enthusiastic cheerleaders. You'll be better off if you can realize that and use it to your advantage.
It may be even harder to stop self-censoring than to quit censoring others. Cut yourself a creative break! As valuable as your critics can be, the critic inside your own head may be a fatal enemy. Learn to drown out the internal voice thwarting your creative exploration. Remember: creating art requires the ability to never say to yourself, "That's not really art."
And one final #BeOriginal thought born out of a real-life work experience where I was on the receiving end: Don't refuse to smile at someone you think is nobody. It will make it easier when you realize later they are somebody. - Mike Brown