We've designed and delivered many creating strategic impact workshop sessions for clients this year. No two sessions have been identical because we design each workshop to the client's specific learning objectives. Today, we're delivering a strategic kickoff meeting workshop for an organization working to dramatically improve its strategic planning process for next year.
Since next year's planning is right around the corner for many companies, it's the ideal time to look at the value of a strategic kickoff meeting and include one on your planning calendar.
Top 10 Reasons to Have a Strategic Kickoff Meeting for Next Year Soon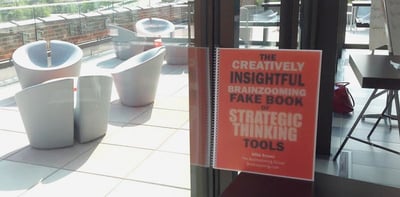 Based on our clients' various objectives, here are the top 10 reasons to have a strategic kickoff meeting for next year:
It's the right time to boost everyone's skills in strategic, creating thinking.
There's still time to tweak your annual planning process so it is more productive as you plan for next year's success.
It's possible within a few days to organize a Brainzooming strategic thinking workshop closely aligned to your organization's strategic direction and priorities.
Having a strategic planning kickoff meeting allows you to address skills gaps with your team relative to strategic thinking and successful implementation.
Whether your focus is a small team or dozens of line managers, we can adjust a strategic kickoff meeting to help everyone productively align on important objectives.
You can customize your strategic kickoff meeting from hundreds of Brainzooming strategic thinking exercises so your business objectives dictate the activities your team learns and practices.
It's a fantastic way to let the organization's leaders actively participate with the team instead of becoming bogged down in meeting details and trying to facilitate.
If you are in an advertising agency, consulting, or service business, a strategic kickoff meeting serves as a professional development boost for your staff.
A strategic kickoff is a fantastic way to involve your non-profit's board of directors more actively in understanding and positively contributing to the organization's future success.
You'll hear comments afterward from your team such as:
"I really liked the questions to help us get out of the SWOT rut."
"Now I have lots of new questions to use; just what I hoped for!"
"Practical information and a new, energized way of thinking."
"A great way to state the basics in such a creative way."
"Loved the simplicity of the slide deck."
"The (Strategic Thinking Tools) Fake Book looks like a great take-away."
"I would come back for a strategic thinking 2 to go deeper."
Yes, strategic thinking can be both engaging and clearly beneficial for your organization's success. We don't think there's any other way to do it!
Are you ready to schedule your strategic kickoff meeting?
What do you think?
We have the capacity to develop and schedule your strategic kickoff meeting for next year. Or if you're well into planning already, we can orient the workshop content toward creating strategic impact and a focus on successful implementation for next year.
Give us a call at 816-509-5320 or email at info@brainzooming.com, and let us get to work on your kickoff meeting! – Mike Brown