Here are a few of the topics I was tweeting about this week:
The Rapture didn't happen last weekend. The lesson? When the boss tells you NOBODY knows the answer to a question, don't be a brown-noser and try to answer the question anyway.
The labels YOU place on yourself can either free you or close off opportunities. Be careful which, if any, you pick!
There's no policy that says you have to let everything that happens in your life define you. Be a Teflon person and protect yourself.
When you're getting ready for a difficult conversation with someone, think about the challenging points you're going to need to make. How many of them apply to you also?
Whenever and whatever you edit, leave lots of white space.
It's easy to be busy. It's hard to be productive.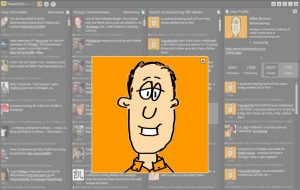 Trust me - it's not always advisable to pick the first words that show up at your mouth.
If you've dealt with a challenging client, write down what was challenging. Re-read it next time they call you about working with them.

Sometimes the project you're working on is trying to tell you it's done. You're simply not listening.
Watching the first Oprah shows I've seen in something like a 150 years this week, "Oprah Behind the Scenes" was a lot more engaging than her regular show. The "how do they do that" element really got me interested.
Having said that, Oprah shared some decent life lessons in her wrap-up show (paraquoted here) - Get yourself-perceptions out of the way to be able to see your blessings. Every single person you meet is looking for validation. Every person wants to be heard. God's voice is with all of us. We decide whether we ignore it or do something about it.
Remember - a platitude gets tweeted halfway around the world before something of substance has a chance to be ignored. – Mike Brown
The Brainzooming Group helps make smart organizations more successful by rapidly expanding their strategic options and creating innovative plans they can efficiently implement. Email us at brainzooming@gmail.com or call us at 816-509-5320 to learn how we can help you enhance your brand strategy and implementation efforts.