I listened / watched / tweeted / chatted / multitasked my way through yesterday's American Marketing Association "Social Media: Cracking the Code for Business Marketers" virtual event.
There was so much great content throughout (which is available on demand until May 2010), but one comment near the end hit home relative to recent conversations. James Clark of Room 214 wrapped up his social media ROI presentation with a slide referencing great work by his company's "competitors." As he put it, the subject area is moving and changing so quickly, you have to acknowledge and learn from competitors.
What a refreshing perspective.
In the transportation/ logistics industry, where I spent years, it's nearly impossible for a company to possess every capability a customer might need in processing, storing, and moving their goods. With increased supply chain complexity, it's become typical for your most vicious competitor in one business segment to be a valued customer, supplier, or strategic partner in another. If a transportation company can't figure out how to work and compete at the same time with someone else, they're destined to be relevant only for customers with very basic needs.
So it was a surprise recently, shortly after going full t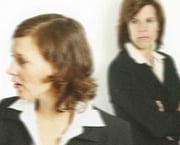 ime with Brainzooming, when two people specifically said, "I think you're a competitor of mine."
How remarkable.
With so many companies needing to think more strategically and innovatively and then be able to implement their ideas, my concern isn't competitors but simply sharing the value of what we can do to help potential clients be more strategic, innovative, and successful.
Can others address these potential clients' same needs? Certainly. And as I regularly interact with other strategy and innovation providers in person or via social media channels, I hope to learn from them as well. At the same time, nearly everything I've produced on strategy, creativity, and innovation approaches is readily available here at no cost for others to use and learn from too.
So what's the basis of competition for my two "competitors"?
How about fear? Or maybe, as someone said the other day when discussing this, it's about being a dinosaur clinging to a business model destined to only fulfill very basic needs.
Sure, it's early in the history I hope Brainzooming will have. We'll definitely lose out on some opportunities where we have the best answer to help someone. But if we don't think we really can best deliver on a potential client's needs, we'll reach out to folks like my "competitor" friends to see how we might work together. Or if it's the best answer, we'll point a potential client to someone who can provide better performance and value for them. I already did it earlier this week.
That's our model, and we believe it's the right one to genuinely serve and benefit the cool people we work with at Brainzooming.
Are you with us on this? - Mike Brown