Ask most business executives about strategy, and they don't spit out well-articulated strategy statements.
Instead, executives readily talk about customers, growth, cost cutting, new markets, or multiple other areas impacting business success.
This realization was a breakthrough in a dramatically different approach to creating a strategy development process when I led strategic planning for a Fortune 500 corporation. The new method for strategic planning set the stage for Brainzooming.
The big-name consultants we worked with to shape our first comprehensive strategic plan never provided productive structure to stimulate strategic thinking. They focused on creating strategic planning PowerPoint-based templates. The process was difficult and slow. It worked only because the consultant staffed the engagement with multiple young MBAs who did the work for our people. The senior partners were working the organization to look for their next gig. All of them were billing high-dollar hours like crazy. They turned a single strategic planning initiative into a seven-figure annual engagement.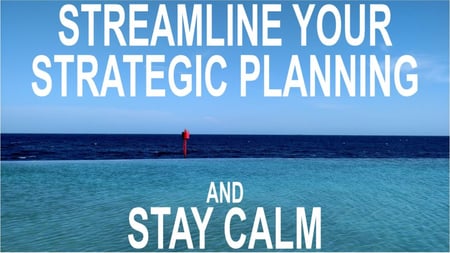 The Difference Between Brainzooming and Big-name Consultants
Through hundreds of internal collaborative workshops, I envisioned and created the Brainzooming Method from my seat on the client side. The objective was to be the type of external strategy partner I'd really want to work with as a senior client executive. This meant:
A diverse, senior, smart, and hard-working team
Streamlining strategic planning to remove the inefficiencies and wasted time
Emphasizing engagement and fun so that even non-strategists are successful at creating winning strategies
An emphasis on productive, creative exercises to generate plenty of new ideas
Respecting internal knowledge (and giving credit to great thinking) while building on, not duplicating, pre-existing work that's still relevant
A pricing model with an all-in, project-based fee that's predictable for clients and supports efficiencies and solid decisions for clients
Brainzooming Isn't for Every Organization
For management teams that simply want an outside partner to go off and come up with all the ideas and pitch them back to the organization, Brainzooming isn't a good fit.
Brainzooming excels, though, in working with leaders who want to create strategy in a new way. Our clients have been burned by big-name consultants and are looking for a different type of strategy partner who:
Will bring a collaborative approach to the client organization
Can deliver an engaging, fast, fun, and teaching process for strategy planning
Will flex to embrace the client's vocabulary and previously successful strategy processes
Is adept at engaging participants in-person, remote, or in hybrid settings
Brainzooming is all about streamlining strategic planning, making the process engaging, and the outcome actionable.
Sound like the formula your organization needs? If so, contact us, and let's talk about the possibilities for develop faster, more successful business strategy at your organization! – Mike Brown