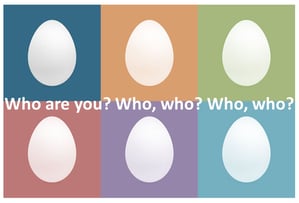 What can you expect your social media experience to be if you want to be an anonymous online stalker who shares no identifiable information?
When you try to be anonymous and coy on Twitter, is it realistic to have any expectations about building a follower base?
I was having that discussion on Twitter with someone who has been engaging and asking great questions, but whose name, location, background, gender, and other web presences are all a mystery. My comment was if you're not going to be real, you better be prepared to settle for whatever you get (but less than you want) from others on Twitter when it comes to conversation and ongoing engagement.
The Online Stalker Blues - 6 Reasons to Not Be Anonymous and Coy on Twitter
Here are six reasons I think someone who comes off as an online stalker will have a less than fulfilling social media experience while trying to remain anonymous and coy on Twitter:
1. You wind up breaking the Golden Rule of Twitter
When you try to mask your identity, location, gender, and everything else about yourself on Twitter, you're in clear violation of the Golden Rule of Twitter: "Honestly reveal as much about yourself as you'd hope others honestly reveal to you. " If you're not willing to share anything of substance about yourself or point to other places on the web where people can learn more about you, expect to get less than you might hope from your Twitter interactions.
2. You look like a bad social media experience waiting to (re)happen
Just about anyone on Twitter for some time has a story about being burned by someone trying to hide behind an anonymous Twitter account. Several years ago, a new person started tweeting at me a lot, even featuring me in a blog post about helpful Twitter people. I pushed the person to drop the anonymity and create a personal presence on Twitter. She (I'd thought it might be a guy) did that and became a real person. We even had a phone conversation about her career challenges and goals. Soon after establishing a presence, however, she completely disappeared. Since then, I'm increasingly skeptical of people who show up big, show up anonymous, and show up expecting you to invest time in them.
3. It's going to slow your Twitter audience growth
For the reason above and the weirdness of interacting with someone who is hiding over a long period of time, if you're going to stay anonymous, don't have significant expectations on growing a sizable, lasting audience. In fact, the person who was singing The Online Stalker Blues with me recently was frustrated about his/her(?) slow path to growing a follower base. This person has done a great job of engaging, but without more sharing to build a relationship, the direct engagement will wear thin.
4. You seem as if you can't be trusted
When you decide to remain completely anonymous (no name, no identifiable avatar, no website, no location, no personal clues in the bio), it raises questions about WHY you won't share even one visible factoid about yourself and/or your identity. If you persist in hiding everything even from those who have made an effort to reach out and engage with you, prepare to be viewed with increasing levels of suspicion.
5. People won't be as willing to put up with your social media crap
If you want to dive in and be mouthy online, sharing information about yourself gets you more latitude to do it. The more information you share about yourself in your Twitter profile, the more likely you are to get a sustained audience to listen to you mouthing off about what's pissing you off so much. Recently, somebody with a donut for an avatar, a name which suggested he knew LOTS about social media, and twenty Twitter followers was tweeting frustration in my direction. When he didn't like a #SXSW-related tweet from a panel I was listening to recapping the event, I really wanted to tell him to stick it. Instead, I tried to be nice and suggest why the tweet and others form the panel were helpful. When he kept it up his "superior to you" attitude (in tweets he subsequently deleted), he simply became pitiable. If he ever tweets me again, he won't be getting any (positive) attention.
6. You're wasting the full benefits of your social media effort
When you're spending a lot of time on Twitter without identifying yourself, you're wasting the positive outcomes of your time investment: creating stickiness with your profile (as people follow and attach to your presence on other social media channels) and pass along value to your content (where people you interact with are sharing your content and suggesting to others they seek you out as well). When there's no way to know who are, who do you think is going to recommend that someone else seek you out?
Do you put up with people on social media singing The Online Stalker Blues?
Do you spend much time with people online who are anonymous and coy about sharing ANY information? If you do spend time with someone who comes off as an online stalker, what motivates you to do it?
If I'm missing something about why this strategy makes sense, I'd love to understand what it is. - Mike Brown
If you're struggling with determining ROI and evaluating its impacts, download "6 Social Media Metrics You Must Track" today! This article provides a concise, strategic view of the numbers and stories that matter in shaping, implementing, and evaluating your strategy. You'll learn lessons about when to address measurement strategy, identifying overlooked ROI opportunities, and creating a 6-metric dashboard. Download Your Free Copy of "6 Social Media Metrics You Must Track!"