We're excited to introduce our new Brainzooming website, during our tenth anniversary year. Designed in partnership with The Lunar Works, the new site does a fantastic job of featuring the range of services and content we offer. It also showcases our brand-new look, which represents who we are as an organization and the variety of strategy, innovation, and others engagements we collaborate on with our clients. Taken together, these changes represent the first phase in expanding our offerings.
Allow Ourselves to Re-Introduce Ourselves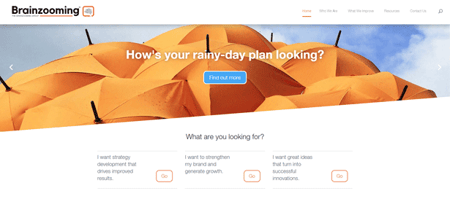 While you've always been able to subscribe to our updates on strategy, creativity, innovation, and branding and download a variety of eBooks, we're now pleased to present multiple changes to the new Brainzooming website::
The second phase involves some completely new offerings we are creating for you. We're looking to:
It's been a great ten years for Brainzooming, and as we look forward to many more, we're so glad you're along for the ride! - Mike Brown
Are you a subscriber to the Brainzooming newsletter? No? Really? There's no better time than now to get your fill of the best in actionable strategy, innovation, and branding tools!