This giant snowman, reported in the Kansas City Star this week, was built in front of a house in Overland Park, KS, just down the street from where I work out at 24 Hour Fitness.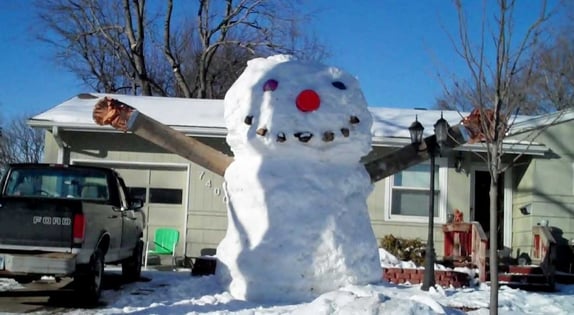 This ginormous snowman is a kick in the ass reminder that when you want to make an impact, think BIG.
Think EXTRAORDINARY!!
THINK LARGER than anyone would ever IMAGINE THINKING!!!
And after you've imagined it, go out and accomplish it in a completely HUMONGOUS, NEWSWORTHY WAY!
For a personal creativity boost, download the free Brainzooming ebook, "Taking the NO Out of InNOvation" as a gift for your creative perspective! For an organizational creativity boost, contact The Brainzooming Group to help your team be more successful by rapidly expanding strategic options and creating innovative plans to efficiently implement. Email us at brainzooming@gmail.com or call us at 816-509-5320 to learn how we can deliver these benefits for you.