I caught up with Misty Stocksdale last fall at a Kansas City tweetup hosted by Shelly Kramer and Laura Lake at Manifesto - a very cool, very dark setting. We exchanged business cards, but her attention-commanding title at Total Home was only visible the next morning: Multi-Skilled Genius.
After checking the company's website and seeing that everyone had equally cool titles, I tweeted Misty, asking her to share the rationale and impact behind them. In the first guest Brainzooming post of 2010, here's Misty's take on creative job titles: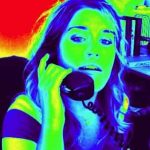 The Kansas City home remodeling industry is home to thousands of contractors, business owners, project managers and installers. Attend an industry function and you'll collect an array of business cards: different sizes, shapes and colors; identical titles, labels and monikers.
Peer-to-peer networking and executive-to-prospect interactions should be memorable and distinguishing. Anything less makes the connection insignificant and possibly forgettable. A name, for the most part, cannot be altered. But a job title, on the other hand, leaves room for creative flexibility and long-term impact.
My small business decided to do away with the traditional title syndrome two years back. We no longer hire Painters, Accountants and Marketing Managers. Instead, we recruit Artists, Number Crunchers and Multi-Skilled Geniuses. We showcase these distinct titles on our email signatures, business cards and website contact pages.
A creative job title sparks ice-breaking curiosity. It removes standard barriers and it allows an individual to be instantaneously expressive of who they are and what type of work they do. The creative combination of a few words can make for an interesting calling card that will inevitably set the Head Chef of a home remodeling company apart from every other Owner/Manager in the room.
Our titles evoke friendly responses from clients and professionals, alike. The obvious creativity and flair behind such a title is inspiring to a person who will potentially be working with us. The titles offer a window to our attitude and make us just a little more memorable in comparison to our peers. In an industry that values the skillfulness of reformation, the innovativeness of renovation and the resourcefulness of imagination, the last thing we would want to do is get lost in the crowd. - Misty Stocksdale