Strong researchers share a variety of characteristics, including:
Asking open-ended questions
Being attentive, active listeners
Patience
A healthy dose of skepticism
The ability to distill information and provide solid advice
To the extent I display any of these traits, it's a gift from my mother, whose birthday is today.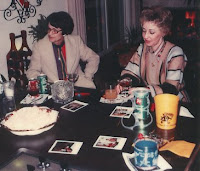 At the core, my mother is an incredible listener. From as far back as I can remember, we always had a steady stream of people, mostly relatives, stopping by our house, grabbing a chair in the kitchen, and proceeding to unburden themselves of their joys, pains, and dreams while Mom (on the right) patiently listened. She'd ask questions, probe for information, challenge some of their pre-conceived notions, and often, provide advice for their life situations.
I've had people tell me my mother is a great conversationalist. She'd probably laugh at that, not seeing herself as one. But people seek her out because she does the two most important things people want: she asks questions about them and patiently listens to what they have to say.

That's a great lesson for all of us, whether we're researchers, or just hoping to be more effective in our interpersonal relationships. Thanks Mom for those early, consistent lessons on how to sincerely care about others. Happy Birthday!