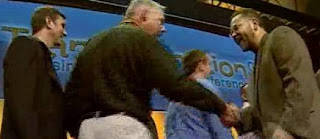 No one's success depends exclusively on individual efforts. We're products of the ideas and interactions in which we're immersed daily.
Greg Reid (far right), one of my strategic mentors, provided an important gift relative to this and the importance of talking about "we" instead of "me" in business.

Why use "we" when you communicate?
Being able to talk from a "we" perspective brings responsibilities, requiring you work with others in developing a recommendation, opening yourself to challenges and different perspectives. Considering different points of view creates stronger recommendations. While it may take more time or work to build broader agreement, the benefits are tremendous. It forces others with a stake in the recommendation to voice their support. Credibly talking from a first person plural perspective also removes a recommendation from standing on your point of view vs. someone else's.
While there's plenty of valid emphasis on personal responsibility and accountability in business, the "we" approach doesn't fly in its face. Instead, it helps mitigate sometimes unwise behaviors attributable to seeking too much personal responsibility.
In making his point, Greg suggested listening to a co-worker's language. When focusing intently, it was clear how often he used "I," "me," and portrayed sole responsibility for a recommendation he was advocating. Unfortunately, "his" audience didn't support it, and having characterized it as his own, the decision came down to whose individual perspective was deemed more valid. Guess what? He lost. Not long after, his failure to build alliances was cited as a factor when pushed out of his position.
Pay attention to your communication. What's your frequency of using "I" or "me" when you could have easily said "we"? Even without formally including others, simply dropping self-attribution for ideas creates some mystery regarding how big your support base is.
Among all the gift givers these twelve days, a particular thank you goes to those recognized this week since all of them have helped shape me in such profound ways beyond those shared here.