I first connected with Sage Bray when she was nice enough to do a tweet pointing her Twitter followers to Brainzooming as a great blog for creative inspiration. Her Twitter name (@aSageInRealLife) and profile were both tremendously intriguing. Sage is involved in a very cool blend of freelance writing, art, and consulting with small businesses and solopreneurs.
In today's guest blog, Sage shares her perspectives on the benefits of placing creative thinking at the heart of planning: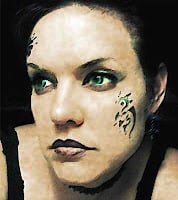 Creativity isn't really about random inspiration although it does seem that way sometimes. What it is really about is exploring options. Instead of falling into the "It's done that way because that's always how it's been done" mode of thinking, you step outside the box, break new ground, push the limits, or get radical. Those are acts of true creativity - an essential, but often overlooked, component for a growing, vibrant business.
Even if you ask for innovative thinking from your employees or yourself, it can still be a fairly rare occurrence. That's because it's too easy to jump at the first viable idea that comes along. I have a rule: I must come up with an absolute minimum of three solutions to any business problem—although I try for at least 10. This means lots of wacky, crazy ideas which are fun and do result in some really interesting ideas. But it's having choices that forces me to compare the pros and cons and really analyze what is possible.
For instance, if you want to get the word out about, say, your new casino style gaming site, you may think it's innovative to start a campaign on Facebook, get fans, and start networking on gaming forums. And you could, and probably should. But what else could you do? There is traditional print advertising, which is becoming the rare thing to do these days. Under certain circumstances though, that could be the best choice to direct your funds, especially if you have a very targeted market. How about getting someone to dress up as Elvis and pass out coupons for free trials at local festivals? Or offer free life-long subscriptions to a couple big entertainment bloggers? Are these viable solutions for your marketing? You may laugh at the idea of some guy dressed up as Elvis promoting your business, but I know several businesses that do exactly that and they have seen significant measurable increases from this kind of promotion. No solution is too crazy - not if it works.
However, being creative and innovative does not mean just doing it differently. It means doing it well, in the best way possible, using the ingenuity you draw from others and from your experiences. Keep up your reservoir of ideas by reading plenty of blogs and newsletters, attending trade shows and local meet-up groups, and brainstorming with colleagues.
Don't limit your exposure to things related to your specific industry either. You can glean fantastic ideas from both related and unrelated industries by simply asking yourself how their innovative ideas can relate to what you do.
You don't have to reinvent the wheel (although that sometimes happens) to keep your business growing and flexible. But you do have to be prepared to do things differently and look for creative solutions to even the most common problems. Keep in mind, the objective is to do whatever you do well. Sometimes the answer you need will be something completely ordinary and what you've been doing all along. The thing is, you won't know if it's the best solution without thinking creatively about it. - Sage Bray