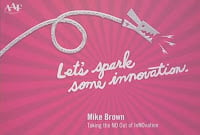 After last week's "Taking the NO Out of InNOvation" presentation for the AAFKC "Get Charged Up" Symposium, I was talking with one attendee about the strategic challenge of successfully promoting oneself. Even for people who are great at successfully marketing other people, products, and services, selling yourself can be a daunting task.
In response to her question about strategies for how to approach it, here are three suggestions:
Do Some Homework - Invest time defining a personal category by exploring your distinctive talents and developing a strategy for how you can accentuate them to set yourself apart.
Ask a Fan for a Recommendation - I wrote a sincere, very favorable recommendation letter for a long-time business partner recently. His response, "(This guy) seems to be everything I doubt about myself." Everything in my letter was true, but it was a lot easier for me to say it than it was for him. You may be in the same situation. If you are, reach out to someone who understands your skills and can succinctly package them in a recommendation letter. Ideally, it will provide the basis for words and phrases you can use to promote yourself.
Get Professional Help - If you're struggling with a resume, consider having a professional assist in preparing it. Select someone who puts you through the discipline of answering questions about your responsibilities and justifying the results you delivered. Being forced to think through answers to these types of in-depth questions is of value all by itself. - Mike Brown
The Brainzooming Group helps make smart organizations more successful by rapidly expanding their strategic options and creating innovative plans they can efficiently implement. Email us at brainzooming@gmail.com or call us at 816-509-5320 to see how we can help make your strategic thinking and brand planning more productive!