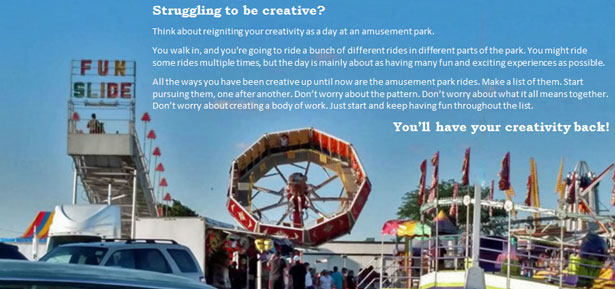 Struggling to be creative?
Think about reigniting your creativity as a day at an amusement park.
You walk in, and you're going to ride a bunch of different rides in different parts of the park. You might ride some rides multiple times, but the day is mainly about as having many fun and exciting experiences as possible.
All the ways you have been creative up until now are the amusement park rides. Make a list of them. Start pursuing them, one after another.
Don't worry about the pattern.
Don't worry about what it all means together.
Don't worry about creating a body of work.
Just start and keep having fun throughout the list.
You'll have your creativity back!
Download our FREE "Taking the No Out of InNOvation eBook to help generate extreme creativity and boost your creative thinking skills! For organizational innovation success, contact The Brainzooming Group to help your team be more successful by rapidly expanding strategic options and creating innovative growth strategies. Contact us at info@brainzooming.com or call us at 816-509-5320 to learn how we can deliver these benefits for you.