Stephen Lahey, the mastermind of Small Business Talent, released a new podcast yesterday where he and I discussed innovation for entrepreneurs, although the principles apply across organizations.
I invite you to listen in on the podcast as we discuss how small businesses can set themselves apart from their competitors in value-added, innovative ways.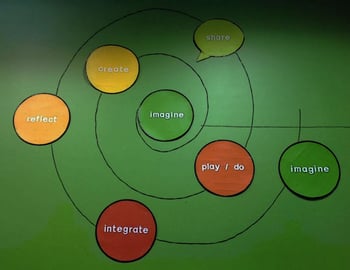 One podcast topic that has not received much treatment here was the origin of the exercises forming the basis of the Brainzooming methodology while I was the VP of Strategic Market Planning at a Fortune 300 corporation. Our company tripled in size to $10 billion in about 30 months. My role became working closely with the competitive companies we had acquired, helping help them stronger strategic marketers – without being able to TELL them what they should do.
The Brainzooming methodology of creativity questions, strategic thinking exercises, and fun encouragement coalesced during this assignment. And as the intellectual property (IP) for Brainzooming came together, two important things happened:
My boss okayed me retaining "ownership" of the exercises and tools. He agreed they were not revenue generating for our B2B transportation and logistics corporation, so I could develop them as my own.
His assurance fueled consciously developing strategic thinking exercises and tools that worked for our company and industry while being adaptable to other industries.
Taking best advantage of this opportunity meant developing everything we did to be modular. By that, I mean all the tools and strategic thinking exercises could be broken apart and put back together in new ways to quickly support many new situations.
6 Tips for Creating Modular IP
Suppose you are in a comparable position inside an organization and creating IP with a life beyond your current job. Alternatively, perhaps you are creating IP only for your current position and want to get the most value from it. In either case, here are six keys for creating modular IP you can use, adapt, and efficiently develop:
At the start, design the IP considering how you could use it in other settings; that means it has to be generalized and easily customizable.
Name your IP with keywords or naming patterns allowing you to readily retrieve them online.
Break the IP into discrete, smaller pieces you can reconstruct in new ways.
Group related IP you expect to use together (i.e., all our branding-specific exercises live in one place; creativity-specific tools are grouped together).
Maintain both the original version and subsequent modifications; you may be able to more easily customize an earlier version than a later, more polished one.
If you have paper copies with handwritten notes, retain them also. Sometimes online changes are easier; other times, an offline version works better.
If you aren't thinking about the future value of the IP you create, start now. As long as you can legally retain the ownership, planning ahead pays tremendous dividends.
Here's the Resource from the Podcast: Looking for Value-Added Innovations to Grow Your Business? Brainzooming Has an Answer!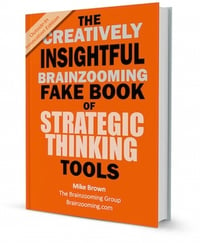 Business growth can depend on introducing new products and services that resonate more strongly with customers and deliver outstanding value.
Are you prepared to take better advantage of your brand's customer and market insights to generate innovative product ideas? The right combination of outside perspectives and productive strategic thinking exercises enables your brand to ideate, prioritize, and propel innovative growth. Download this free, concise ebook to:
Identify your organization's innovation profile
Rapidly deploy effective strategic thinking exercises to spur innovation
Incorporate market-based perspectives into your innovation strategy in successful ways