While it may seem far fetched, many organizations are already thinking about getting ready for strategic planning for next year. There's a great advantage to investing time in early summer to identify changes to last year's business strategy development process based on what worked, what didn't work, and what you hope to accomplish for next year.
As you think about who to involve in developing business strategy for your organization, we've been talking for years about important groups to include:
We've been talking more recently about the three types of voices to incorporate into strategic planning visioning exercises – familiar voices, challenger, voices, and emerging voices.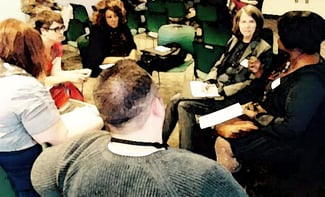 As you think about developing business strategy, however, there are three other perspectives to consider. You need people participating in strategic planning that are:
Familiar with the past
Grounded in what's happening right now
Capable of imagining the future
As with the strategic thinking perspectives (business experience, functional expertise, creative energy), it's rare that one individual will be strong at all these perspectives.
As you think about your entire planning team, we recommend listing the likely people for developing business strategy and then see which roles each of them satisfies. You can then look for where you have critical gaps in experience and perspectives. At that point you can be very selective and pin point the new people you need to add to the strategy team. – Mike Brown
Leaders are looking for strong ways to engage strong collaborators to shape shared visions. They need strategic thinkers who can develop strategy and turn it into results.
This new Brainzooming mini-book, "Results - Creating Strategic Impact" unveils ten proven lessons for leaders to increase strategic collaboration, engagement, and create improved results.
Download this free, action-focused mini-book to:
Learn smart ways to separate strategic opportunities from the daily noise of business
Increase focus for your team with productive strategy questions everyone can use
Actively engage stakeholders in strategy AND implementation success