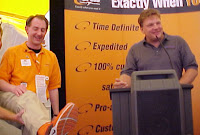 We're in an annual transitional time in sports. Football just wrapped up, baseball spring training has started, and Matt Kenseth won the rain-shortened Daytona 500 in NASCAR yesterday. There was even a big poker tournament on ESPN Sunday. While there's not a lot on sports here, this week's articles will each touch on sports-related strategy lessons.
"One of Them Racing Lessons"
At a 2002 Dover, DE race, our team had a good but not great car. The weather was iffy all day as storm clouds rolled over, and rain drops weren't far behind. As the rain started, most cars stayed on the track to keep their positions, figuring the race would be rained out.
Instead of following, our car left its position among the leaders, heading for a pit stop to get gas and tires just as the race was halted. As a result, we went to the back of the pack, ruining our chances for a strong finish - if the rain washed out the race.
Why did the team make the decision?
Our team checked all available radar information and saw the rain should stop after too long. Knowing our car's mileage and tire wear, coupled with how much of the race would remain if it resumed, the team used a strategy based on its insight (and expectation) the race would go the distance.
So what happened?
Unlike yesterday's Daytona 500, the clouds moved on and the race resumed. While nearly every other car headed for the pits, Jimmy Spencer moved up to third. As racing heated up near the end, the first and second place cars made contact, slowing down just enough for Jimmy to drive underneath them and take the lead. "Mr. Excitement" won the race.
Even though we'd try to script what Jimmy would say, we'd always hold our breath when they gave Jimmy the microphone. In the winner's circle that day, Jimmy made an unexpected great strategic statement: "We didn't have the best car today, but we had the best strategy."
I'm not sure if Jimmy meant all that in his comment, but I've used this story many times since because it's truly a great strategic insight with value to all business strategists! -
Mike Brown