What do you do if there are multiple, separate audiences your brand needs to reach, but you don't have the time or resources to deliver content in multiple, separate social media streams?
This social media strategy question surfaced more than once the first day of the Social Media Strategies Summit in Las Vegas.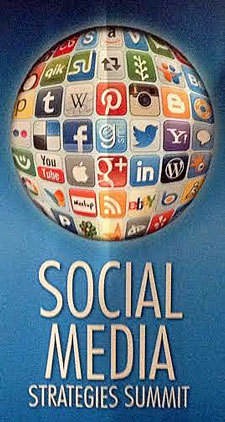 The first instance was an agency trying to reach client prospects who are CMOs in addition to marketing talent as potential employees. In another case, it was a startup organization without the existing content or current bandwidth for multi-channel social media. In a third case, it was a national travel and tourism organization catering to potential travelers in multiple countries speaking multiple languages.
Each is currently handling this social media strategy situation in varied ways.
Are my tweets bothering you?
Based on responses across all these discussions, here are ideas for how to approach this social media strategy challenge.
Step 1 - Have you determined if the audiences are complementary?
The days of thinking you can communicate in different ways to different audiences and keep the messages and audiences segregated are gone. If your brand is saying one thing in one place, you can figure you're saying the one thing in multiple places, whether you like it or not.
A first step then is determining whether the messages targeted at one audience are going to be appropriate, complementary, or miss the mark with other audiences.
In the digital agency's case, the separately targeted messages seem complementary. A CMO hiring an agency wants to know the agency is hiring smart, talented, and highly skilled people. A potential new hire for a digital agency wants to know he or she will have the opportunity to work with cool clients having innovative projects. Looking at this case in a simplified manner, the brand message to one audience is a complementary brand cue to the other audience. There doesn't seem to be a downside to each audience seeing messages more directly targeted at another audience.
Step 2 - Can you test how similar the audiences are?
The situation with the travel and tourism organization is more complex. They address content in at least four languages (Spanish and English are primary) and audiences on multiple continents.
The current strategy involves repeating the same posts in different languages, typically on each social media channel. They appear to have duplicate content on each social platform much of the time, especially because of the heavy use of photos, which DO translate across languages. They suspect / know, however, that various country populations respond to different aspects of their country's culture and seek out different content accordingly. One downside of the current approach (same content on each channel) is they train their audience to only follow them on one channel.
For them, social media strategy step two involves various "tests" of their suspicions about the need for multiple channels:
Look at the audience demographic information available on each group (country and language) to see how they compare based on what is known about them.
To the extent possible, examine quantitatively how each group engages with content.
Set up and implement trials over several months where each group receives the same content at the same time. The objective is to compare the results and see how similarly or differently each group engages with identical updates.
If emails are available for a representative cross-section of the audience, test their reactions in a more controlled setting (with an online survey) to various types of content.
While there is no one formula to answer the questions about how many channels they need in these situations, this social media strategy development approach should provide a basis to understand how complementary or disaffecting content intended for another group is when another group receives it.
Then they'll have a better sense of the answer to the question, "Are my tweets bothering you?" – Mike Brown
"How strong is my organization's social media strategy?"
Is your social media implementation working as well as it can? In less than 60 minutes with the new FREE Brainzooming ebook "9 Diagnostics to Check Your Social Strategy," you'll have a precise answer to this question.
Any executive can make a thorough yet rapid evaluation of nine different dimensions of their social business strategies with these nine diagnostics. Download Your Free Copy of "9 Diagnostics to Check Your Social Strategy."