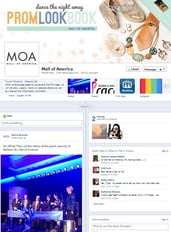 I was writing a story for The Social Media Monthly magazine recently on the Mall of America and its social media strategy. In the course of interviewing Mall of America Senior Public Relations and Social Media Manager, Bridget Jewell, she discussed how the Mall introduced each of its social media presences based on a specific opportunity or seasonal campaign. Instead of immediately hopping on every new social network right away, MOA creates a presence when there's a clear business reason to do so.
Not surprisingly then, as Bridget reviewed the content strategies and specific content media shared by channel, each had a different purpose. While its multiple social media presences are brand consistent and integrated, the Mall of America Twitter and Facebook sites are used differently (i.e., not simply sharing the same links), and Instagram isn't simply for sharing photos from MOA YouTube videos.
Can you answer these 5 social media strategy questions as well as Mall of America can?
Taking a cue from the smart social media strategy at MOA, here are five questions any organization should ask about its own social media content strategy:
In what ways is our content well-suited to the specific social media network and our current and prospective users on each of them?
How is our content across the channels integrated and collectively representative of our brand?
How does our social media content vary across our different platforms?
What is included in our social media content to move the audience toward progressively beneficial behaviors for our organization?
What do we incorporate into our social media content that makes it worth remembering, sharing with others, and returning to in the future?
All five are very rich strategic questions. That means you need to be able to provide strategically rich answers.
Need some ideas for your social media strategy?
If you want to go to school on an organization doing it right to get a sense of how these questions should be answered, check out the varied social media presences for MOA. You'll learn a lot - trust me. - Mike Brown
If you're struggling with determining ROI and evaluating its impacts, download "6 Social Media Metrics You Must Track" today! This article provides a concise, strategic view of the numbers and stories that matter in shaping, implementing, and evaluating your strategy. You'll learn lessons about when to address measurement strategy, identifying overlooked ROI opportunities, and creating a 6-metric dashboard. Download Your Free Copy of "6 Social Media Metrics You Must Track!"