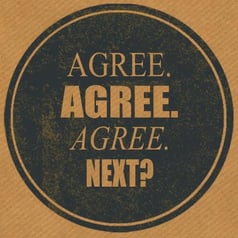 My friend Tony Vannicola used to remark when everybody at a meeting was piling on to say the same thing, "Sounds like we're all in violent agreement."
I always loved that phrase.
Over time, I realized how much project management time gets wasted with people rehashing topics where they are truly in violent agreement.
When time is limited, and you need to get things done, however, you don't want to waste time on areas of violent agreement. You want to focus your project management efforts instead on areas of violent DISAGREEMENT.
7 Project Management Techniques to Spend Less Time Agreeing
Try these seven project management techniques to get to disagreements faster so you can turn them into agreements, or at least see if there are solid reasons to disagree.
Use online surveys or online collaboration to understand a group's sentiment before or during a project
Have individual conversations with group members about their initial perspectives
Ask team members to write down their personal perspectives then collectively plot them on a matrix or scale to isolate disagreement areas
Run through a checklist of potential issues to see if there are any you can dismiss with no further discussion
Set a time limit on conversations in a meeting and only extend the time if there are conflicting points of view
Keep a running list of previously agreed to decisions posted so you don't unnecessarily revisit them
Use multiple small groups and try to keep the "agreement talkers" bunch together
All these project management techniques work.
Quickly pick those you agree with and try them with a project team where you want to efficiently focus on where you disagree. – Mike Brown
The Brainzooming Group helps make smart organizations more successful by rapidly expanding their strategic options and creating innovative plans they can efficiently implement. Email us at info@brainzooming.com or call us at 816-509-5320 to learn how we can help you enhance your strategy and implementation efforts.