The Brainzooming blog wasn't originally focused on project management techniques. Successfully going from strategy to implementation, however, is critical to business success.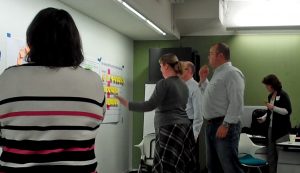 Creating a strong, innovative plan is only part of the strategy equation. Implementing innovation in organizations reluctant to embrace the changes needed to survive and grow requires what we've come to call "strategic project management." These skills go well beyond a project manager checking off items on a to-do list.
Here are twenty-one articles organizing project management techniques we've been sharing with clients to help create needed changes in their organizations.
Project Management Techniques for Starting Strongly
Getting a project started right is lot easier when you're not making early mistakes. These are six mistakes I've made on project management techniques so you don't have to make them.
Strong project management technique requires both thinking and starting. One won't work without the other.
When the pressure is on for completing a project fast, there are related implications an organization and a project manager have to contend with successfully.
Project Team Interactions
There are right and wrong ways for project team member communication to take place. There are also right and wrong times for how you communicate within your project team.
A strong project manager is the equivalent of a great basketball point guard on a project. An outstanding project manager is selfless, a leader, and has multi-dimensional talents to contribute to the project team.
There are many ways to prioritize what you do next. When you're in the midst of a project, consider prioritizing based on what other project team members are depending on you to finish.
Change Management
If your organization tends to select strategies and prioritize projects that are comfortable, here's a way to more overtly push for change.
The best approach to create change will differ based on expectations about the status quo and the demand for dramatically different results.
Wide-scale change in a change-resistant organization provides a unique set of project management challenges and potential remedies to achieve the maximum beneficial impact.
Big changes are rarely "one and done" efforts. Prepare ahead of time for the ongoing reinforcement and change management techniques a project manager and project team will need to implement.
Project Management Technique Challenges
If your organization has a habit of failing to successfully implement new projects, here are thirteen problems to watch for and fix.
If a project isn't going as planned, step back and make sure you have a checklist to guide your way back to normalcy and stronger performance in a hurry.
If you handle project management on enough projects, you're going to wind up working with challenging people. If you can't avoid them, at least be ready to successfully lead them (and the rest of the project team) to success.
NASCAR teams are used to stretching one of their main resources (fuel) with creative, winning strategies. Smart project teams can learn and apply some of the principles NASCAR teams use for success with less.
Improving Decision Making
It's easy for certain personality types and organizations to take too long on decision making. In these seven situations, there's no need to extend decision making time unnecessarily.
One factor that can slow decision making speed is too many available choices. Here is a low-tech, very direct way to narrow your decision options and move directly toward decision making.
One way to speed project-related decision making is when the senior person on the project delegates appropriate levels of decision making to team members and makes the delegation clear. Here's a solid approach to make this happen.
Project Management Techniques for Finishing Successfully
When time is running down on a project, project management rules don't necessarily change, but how you apply them can. These techniques can close out a project more successfully when timing is running down.
When time is running down on a project you have approached with higher than expected standards, consider relaxing those standards. Getting done can definitely be more important than being perfect.
While we often consider a project done when all the steps are completed or the deadline is reached, that's not always the case with a creative project. A creative project could be done before all the steps are completed or the deadline is reached.
Closing out a project the right way can set the stage for future success. A strong project closeout won't simply happen by accident though. The closeout phase needs to be project managed, too. – Mike Brown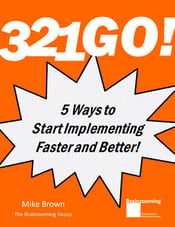 In the new Brainzooming strategy eBook 321 GO!, we share common situations standing in the way of successfully implementing your most important strategies. You will learn effective, proven ways to move your implementation plan forward with greater speed and success. You'll learn ways to help your team:
Move forward even amid uncertainty
Take on leadership and responsibility for decisions
Efficiently move from information gathering to action
Focusing on important activities leading to results