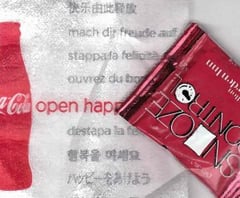 Some of the most creative times for me are on planes - time and time again. On a return plane flight this week, I filled up page after page with notes and diagrams of ideas to help shape current projects... plus this blog post:
Diversity is great for better thinking, but simply adding a "newer" version of the same person everyone in your group represents isn't all the diversity you could use.
If in an initial conversation someone introduces a topic you'd never want to be a part of, it tells you everything you need to know.
I had a 90-minute business conversation on this trip that didn't touch on social media. I'm not sure the last time that happened.
When looking at a new situation you don't see any growth potential or development upside, it tells you everything you need to know.
This crowdsourcing thing may really take hold. I saw a passenger correctly tell the Delta gate agent what our reassigned gate was going to be while Delta was still announcing it was waiting for information.
Guys that sound like Foghorn Leghorn are, by definition, funny!
If you give people enough time and space to talk, honesty will eventually show up. Be watching for it.
Planes aren't creative happy places for everybody. That's fine, but be sure to know where your creative happy places are and visit them often. - Mike Brown
The Brainzooming Group helps make smart organizations more successful by rapidly expanding their strategic options and creating innovative plans they can efficiently implement. Email us at brainzooming@gmail.com or call us at 816-509-5320 to see how we can help make your strategic thinking and planning more productive, even when you're not on a plane!