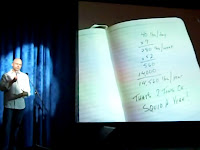 Last Thursday, thanks to a heads up tweet from Todd Chandler, Cyndi and I attended our first Pecha Kucha night at Crosstown Station in downtown Kansas City. If you've not heard about it, Pecha Kucha is an innovative 20-slide PowerPoint presentation format with each slide on-screen for 20 seconds. Introduced in 2003, Pecha Kucha nights have been held in more than 200 cities globally.
Pecha Kucha
emphasizes rapidly-paced, visually-oriented, creative slides. You'd think, by definition, it would be difficult to do a bad Pecha Kucha presentation since so many poor presentations emerge from slow pacing and too many words on a slide. While avoiding these downfalls helps improve presentations, it doesn't fix everything.
As a result, here are 6 presentation reminders from Pecha Kucha night that apply to other presentations too:
Reminder 2: You can lose the handle on a presentation in less than 6 minutes. Even if you're only presenting for a few moments, failing to have a solid presentation strategy and a well thought out flow will put you in the ditch quickly.
Reminder 3: Sometimes 20 seconds a slide is still too long. You wouldn't imagine it, but 20 seconds can push the limits of how long a slide should be on screen if there's no reason for it to be there or it's not information rich.
Reminder 4: It's a good thing corporate presentations don't usually include beer and poetry. No matter what they are, distractions change a presentation. The beer break in the middle of the evening introduced an attractive distraction. Subsequent presentations became funnier or less tolerable (i.e. the poetry reading) because of it.
Reminder 5: Doing a visually-oriented presentation doesn't mean you should treat it like a slide show. Really compelling pictures are worth a thousand words. Marginal images are worth about five. And if you're not prepared to fill in some of the other necessary words to make a point, you've got a problem.
Reminder 6:
Humor nearly always helps a presentation.
Even in a brief presentation, smartly using humor makes a presenter more intellectually & emotionally approachable, bringing the audience into the experience. One of the funniest lines of the night? "These mouse turds were hand rolled by me." How can you not be rooting for someone who's willing to honestly share that?