The ever-growing Content Marketing World is next week in Cleveland. I'll be co-presenting a session with global content marketing expert and author, Pam Didner, on Maximizing Content Opportunities at Events.
It's always great to get back to Northeast Ohio. The experience will be enhanced by presenting with Pam Didner as her new book on Global Content Marketing launches (affiliate link).
Pam will be quick to tell you, however, that she won't be talking about any book material in our presentation!
Maximizing Content and Experience Strategy at Content Marketing World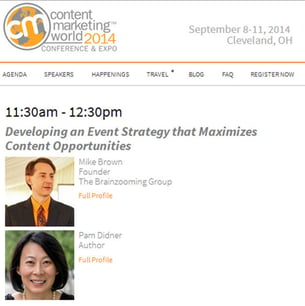 What we WILL be discussing is something we've characterized as a two-part case study on a transformational business event.
Pam participated in the most recent C2 conference, a very different type of event that bills itself as a "business conference somewhere between genius and insanity." Pam will open our session with the perspective that at an event such as C2, content and experience are identical. She'll back that up from an experiential perspective and interviews with C2 organizers.
In my portion of the case study presentation, we'll look at C2 in the same way Brainzooming evaluates many strategies. We'll reverse engineer the experience to identify the types of models, concepts, and strategic thinking questions that would allow another organization to replicate the same type of feel and success in their own situation. In fact, I'm in the midst of developing a download with (by current count) 250 models, concepts, ideas, and strategic thinking questions attendees can use to design their own experiences and events to maximize content creation.
Join Us at Content Marketing World
If you are attending Content Marketing World, we'd love to have you our Wednesday, September 10th session (11:30 a.m. EDT). If you are there, message me and let's try to meet up amid the sea of orange at Content Marketing World.
Look for updates on Twitter and here on the blog during the event next week! - Mike Brown
"How strong is my organization's social media strategy?"
Is your social media implementation working as well as it can? In less than 60 minutes with the new FREE Brainzooming ebook "9 Diagnostics to Check Your Social Strategy," you'll have a precise answer to this question.
Any executive can make a thorough yet rapid evaluation of nine different dimensions of their social media strategies with these nine diagnostics. Download Your Free Copy of "9 Diagnostics to Check Your Social Strategy."
(Affiliate Link)