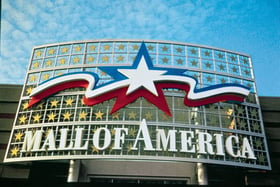 Talk about a great use of social media listening to engage customers! The evening before last week's BMA Minnesota innovation training presentation on Taking the NO Out of Business InNOvation, I went to dinner at Crave in the Mall of America with good friends and Brainzooming blog readers Brian and Alison Wenck.
After parting ways with the Wencks, I walked into a store called Sox Appeal looking for orange socks to add to my collection. Lo and behold, they had multiple orange sock styles, and I bought 3 pairs of new orange socks.
Back at my hotel room later, I turned on Tweetdeck to catch up with happenings in the Twitter world. I tweeted about going to Mall of America and finding orange socks to give away at the next morning's presentation.
In part, I mention brands in social media channels to see if they are listening and responding as part of their social media strategies. Not many responses come my way.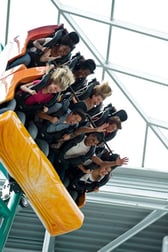 Within a very short time though, I had a reply from @MallOfAmerica wishing me well on the presentation. The tweet ended with "-lg," which when I clicked on the @MallOfAmerica profile, told me Lisa Grimm (@lulugrimm) was handling the @MallOfAmerica account Wednesday night.
Lisa and I had a brief chat about Mall of America and its social media listening strategy. After bemoaning my four visits to MOA without getting to ride any rides, she invited me to stop by next time in town and definitely ride the rides! I invited Lisa to the presentation since she'd mentioned seeing info about it, but things were getting too crazy at work with the pending holiday season.
Granted, the Mall of America is a big operation, but think how smartly this brief personal encounter shows it is approaching its social media listening strategy. The Mall of America is:
Listening - Later in the evening (beyond typical business hours), they were listening when people were talking, not just when Mall of America was in full operating mode.
Reaching Out - I wasn't looking to initiate a conversation with MOA since the orange socks were bought at a particular store. But because I mentioned the mall in the tweet, they took the opportunity to start a conversation.
Personalizing the Interaction - Even though it's a business account, putting the tweeter's initials on the tweet and the Twitter identities in the profile created both a business AND a personal connection. Although my haste caused me to take several times to get her name right, I've had a couple more conversations with Lisa on Twitter since then.
Inviting Future Engagement Online and IRL - The conversation about both the roller coasters and my interest in learning more about the Mall's social media strategy led to the invite from Lisa to reach out to them next time I'm in town.
This is far and away the strongest social media listening and outreach integration I've experienced with any brand on Twitter. It's a great standard for other organizations to emulate in social media listening strategy implementation! – Mike Brown
The Brainzooming Group helps make smart organizations more successful by rapidly expanding their strategic options and creating innovative plans they can efficiently implement. Email us at brainzooming@gmail.com or call 816-509-5320 to learn how we've developed integrated social media strategy for other brands and can do the same for yours.