The last few weeks, I've been watching a number of on-demand HBO documentaries. Each one has yielded helpful business, creativity, or life lessons.
One of the documentaries was called "His Way." It's a profile on uber-celebrity manager, promoter, and filmmaker, Jerry Weintraub. While it's clear Weintraub has some worldviews and practices that are morally questionable,
I marveled at his story of approaching Col. Tom Parker, Elvis Presley's manager, to try to get Parker to let Weintraub "present" Elvis Presley on a nationwide concert tour back in the day. Weintraub called Parker. Col. Tom Parker listened to the idea and told Weintraub, "Thanks, but no thanks."
To hear Jerry Weintraub tell the story, he proceeded to call Colonel Tom Parker every day for the next year to pitch the same nationwide concert tour idea. Each day, Parker said, "No." That was until the day he told Weintraub to fly to Las Vegas with a million dollars to strike a deal.
Keep Calling a Prospect when They're Saying "No"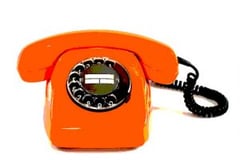 Now, there is no way I would EVER think to call someone daily after they had rejected a business proposal. Maybe I'd check back in at some point in the future, but I can't imagine making a daily call just to hear a prospect tell you, "No."
But it obviously worked for Weintraub, maybe in part, due to the impact he could create through trying to talk to Col. Tom daily. Jerry Weintraub's daily call allowed him to:
1. Demonstrate his persistence and tenacity (which would be valuable if they were to do business together)
2. Reveal snippets of his character, personality, knowledge, and expertise (all elements of building a solid relationship)
3. Share and reinforce the concept he was pitching, piece-by-piece (bringing the Colonel into understanding and accepting his concept for promoting Elvis Presley on a nationwide concert tour)
4. Build surprise – even through repetition (Parker had to be going through waves of wondering when Weintraub would continue calling, and then still be surprised when he did)
What Would You Do?
I'm not sure I'm ready to start calling the blog reader who requested a social media strategy proposal last summer and then wouldn't respond. But I just might. Maybe I'll declare a "Calling from out of the Blue Day."
Who knows where a million dollar deal will come from? - Mike Brown
If you're struggling with determining ROI and evaluating its impacts, download "6 Social Media Metrics You Must Track" today! This article provides a concise, strategic view of the numbers and stories that matter in shaping, implementing, and evaluating your strategy. You'll learn lessons about when to address measurement strategy, identifying overlooked ROI opportunities, and creating a 6-metric dashboard. Download Your Free Copy of "6 Social Media Metrics You Must Track!"