I was talking with a long-time friend and Brainzooming blog reader last week about a business conference she had participated in recently. In the pre-event materials, the event was portrayed as an innovative business conference featuring TED-like talks. She was helping one of her company's senior leaders develop his presentation based on these materials. To get ready, she had reached out to me, and we talked through what aspects should go into the talk's design and structure to reflect TED sensibilities.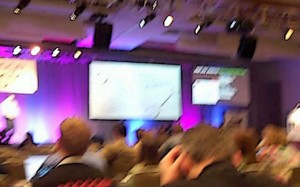 After all the preparation to create a worthy TED-like talk, she was dumbfounded when her company's segment was the only one that was anything like a TED talk at the business conference. Additionally, the staging (a podium with a fixed microphone) and audio-visual support (no lavalier microphone even available) in no way suggested an expectation that TED-like talks would be delivered.
This type of disconnect between how a supposedly innovative business conference is billed and what it actually delivers is by no means confined to this one event. I've been to a variety of innovative business conferences hyped with "Social Media," "Unconference," or "TED-like" positionings that fell completely flat.
Why?
Because they set up expectations for an audience experience that clearly wasn't delivered.
What's Vital for an Innovative Business Conference?
As a favor to anyone considering putting on an innovative business conference, here is a starting checklist of 7 vital elements to deliver. These will help support your pre-event hype and begin addressing audience experience expectations whenever you say you're creating an innovation, social media, or unconference event.
1. See the featured presenters speak ahead of time.
Don't leave planned presentations to chance – especially the keynote presentations. Someone may have great content. But great content that is poorly delivered or presented with a negative attitude can crater your event's audience experience from the opening minutes.
2. Create places for attendees to easily congregate before and during the business conference.
If you really want to make it easy, create it on Facebook and invest the time to make sure the community management is very active. If you're expecting people to go someplace else to congregate, REALLY make sure there's a reason for them to go there. While you're at it, create reasons why people would want to hang out there after the conference as well.
3. Create a business conference hashtag (maybe multiple hashtags) beforehand.
A Twitter hashtag allows attendees and presenters to readily connect with each other, makes creating and sharing additional valuable content much more likely, and benefits you by making audience-generated event promotion much easier.
4. Be true to the audience experience expectations for the type of conference you're planning.
If you're going to advertise TED-style presentations, make sure that's what you deliver. That means there's no podium and the presentations are time-constrained, story-based, and well-rehearsed. If you're advertising an unconference, the audience needs to participate in selecting and presenting the content. Don't tout a type of audience experience you don't plan to create.
5. When you're planning an innovation-oriented conference, there needs to be some degree of innovation delivered in the presentation style as well.
Innovation speakers who use the same old, crappy, text-laden, impossible to read PowerPoint slides DON'T back up audience experience expectations for what an innovation conference should be. Take advantage of innovative presenters and presentation formats.
6. Have a production team that knows what it's doing and understands the style of the conference experience you're trying to deliver.
It's not enough to have the person who organized the event using a personal laptop or switching out computers among presenters. Put a real production team and system in place. Test everything, especially videos, Internet, audio transitions, etc. Make sure there are redundancies when something doesn't work. And you should never try to overtax the production setup you do have in place.
7. Light the speaking area very well.
It's ridiculous when you have to turn off the lights around the speaker so you can see the slides but the audience can no longer see the speaker. Or the speaker spends the entire presentation time in a dark area on stage. Get the lighting right and let the speakers know how to take best advantage of it.
What other elements would you add that need to be part of an innovative business conference?
That's my starting list. What would you add based on your frustrations with attending innovation, social media, and unconferences that failed to meet your expectations? – Mike Brown
If you'd like to add an interactive, educationally-stimulating presentation on strategy, innovation, branding, social media or a variety of other topics to your event, Mike Brown is the answer. Email us at info@brainzooming.com or call 816-509-5320 to learn how Mike can get your audience members Brainzooming!