Here's part 2 to Woody Bendle's exploration of retail shopper experience insights and innovation through a "Three I's of Shopping" framework that allows a retail innovator to gain a stronger understanding of shoppers' needs. You can click here to read Part 1, in case you missed it:
Innovating the Retail Shopper Experience by Woody Bendle
Yesterday, we explored a framework based on the "Three I's of Shopping" to better understand retail shopper experience innovation based on customer needs. The three I's focus on the Immediacy of the shopping need along with the degree to which the retail shopper is seeking Inspiration and/or Information.
To inspire innovative thinking about the retail brand experience, we'll consider VERY different shopping environments and the orientation of these stores' shoppers.
High Inspiration, High Information, Low Immediate Need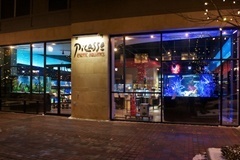 Here in Leawood Kansas, we have one of the COOLEST shopping experiences you will ever encounter with Picasso Exotic Aquatics. This store specializes in absolutely gorgeous fresh and saltwater fish and aquarium systems. With every visit, I am profoundly awed by the living beauty on display. It's like visiting an aquarium – for free!
Picasso Exotic Aquatics TOTALLY delivers on the inspiration dimension - which makes sense for this type of a concept if you think about it. It's hard to imagine too many people coming into this store with an urgent or immediate need to buy some exotic fish or an aquarium (the exception perhaps being the need to quickly replace your husband's prized saltwater tank that just fell over and shattered because your six year old son decided to help your family's curious tom-cat out by pushing him into the tank – after all, he looked like he wanted in there).
Outside of this rare (but nonetheless real) exception, most people visiting Picasso Exotic Aquatics are probably there for inspiration and information. This store's job is to captivate the imagination and provide information to its shoppers to inspire a purchase – either now, or perhaps some time down the road. And, I cannot imagine that anyone would leave this store without being inspired. Job well done!
High Immediate Need, Moderate Information, Low-to-moderate Inspiration
When thinking of retail stores with a high proportion of traffic having an immediate or urgent need to make a purchase, grocery stores are among the first to come to mind. Most of us can relate to that "dang-it" moment when we open the fridge only to realize there is no milk, or you are ready to start your dishwasher and realize you're out of soap.
I had one of these moments this weekend – AFTER I had already successfully checked off everything on my Saturday morning grocery shopping list. I had visited Hy-Vee, Walmart AND Costco that morning – because I can never seem to get everything at one place. My shopper need orientation was highly "need" skewed, but not "urgent." I was on a mission admittedly, but there wasn't an extreme constraint. The "urgent" came as we began to make dinner and realized a critical ingredient was missing. Yep, I made a speedy trip to Price Chopper – four different stores in the same day!
Grocery chains are really smart when it comes to shopper insights. They know there are certain things such as milk, bread, diapers, etc. that are often bought by customers with urgent needs. If they were designing stores for maximum shopping efficiency, these items would be placed at the front of the store so customers with urgent needs could quickly get in and out.
BUT, these urgent items are nearly ALWAYS in the back of the store. You've got to walk by all sorts of cleverly merchandised and promoted stuff – and of course, you now have this completely unforeseen need to purchase something that you hadn't planned on purchasing – such as the family sized bag of nacho-cheese flavored Doritos and a 12-pack of Coca-Cola – because tomorrow is game day! Sound familiar? THAT's why I didn't stick to 100% to my shopping list at ANY of the four places I shopped over the weekend.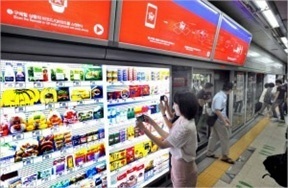 Over the years, grocers have done some very clever things to innovate the shopper experience. One of the absolute coolest is what the UK based grocery chain, Tesco, did in South Korea.
Faced with the challenge of growing their South Korean grocery business in the face of VERY LIMITED, and VERY EXPENSIVE real estate opportunities, the Tesco team developed a virtual grocery store allowing commuters to shop digitally in subway stations using smart phones, as they were going to, or coming home from work. The groceries are delivered to their home that evening. Tesco recognized the shopper need orientation and innovated an entirely new shopper experience for time constrained shoppers. These grocery shoppers didn't need inspiration or comparative shopping information. What they needed was getting their groceries while saving time in their hectic lives.
This program has been so successful, Tesco has now launched it in the UK as well.
Let's think about innovating!
As these two examples illustrate, shopper experiences can be innovated in unique and very compelling ways. But chances are, you will not be successful by just winging it; you have to start by deeply and thoroughly understanding your customers' needs. You also need to know the role your store (and its experience) is expected to, and might be able to serve.
To do, this you can start by learning about your shoppers' three I's:
Immediate Need
Information Seeking
Inspiration Seeking
Once you better understand the shopper needs orientation of your store's customers, think about the following questions:
Is the store experience optimized to best serve the primary need(s) of my core customers and deliver "wow"?
How might we enhance the design to better meet (or even better) or exceed my shoppers' primary need(s)?
Might we be able to enhance our store experience (and potentially sales and loyalty) by dialing up design / service elements aligned against secondary or tertiary shopper needs?
How else might we deliver an exceptional shopping experience and create even more "wow"?
Does the shopper need orientation vary during different times of the day or different days of the week?
What other retail stores or concepts have similar shopper need orientation profiles and what are they doing?
Are there aspects of my store experience or design that are getting in the way of an exceptional shopping experience?
Admittedly, this list isn't exhaustive. I'd love to hear what other questions you have! If you are retailer facing growth challenges, one possible opportunity for growth might exist by innovating your shopper experience.
Now, let's get innovating! - Woody Bendle
Download the free ebook, "Taking the NO Out of InNOvation" to help you generate fantastic creative thinking and ideas! For an organizational innovation success boost, contact The Brainzooming Group to help your team be more successful by rapidly expanding strategic options and creating innovative plans to efficiently implement. Email us at info@brainzooming.com or call us at 816-509-5320 to learn how we can deliver these benefits for you.