We were working with a client's C-level team to develop its strategic plan. To help them articulate the organization's strategic direction, we used several branding exercises. These branding exercises focused on identifying:
The organization's strategic foundation
Its best current performance areas
The combination of branding exercises effectively identified new language to describe its strategic direction and supporting strategies.
During the exercises and conversations to develop its big strategy statement, we discussed the role that expertise plays in the organization's brand. Because expertise is central to the organization's products, it has only considered a very strict definition for the attribute. That can be okay, but in a fast-changing market, ensuring everything is 100% proven slows solutions customers need. It also allows new, more nimble competitors to set the ground rules for important product features.
When we questioned the narrow use of expertise, they played back the attributes on the left as the defining characteristics for what expertise means.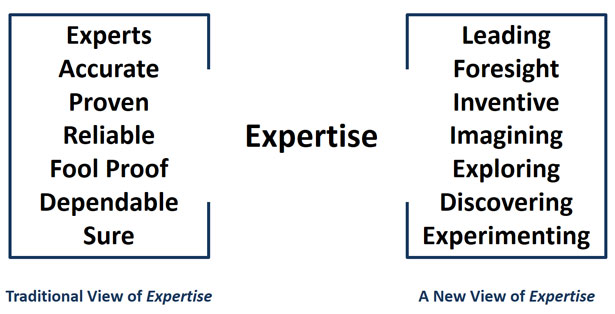 We then added all the attributes on the right.
Our point was that the organization's unquestioned expertise allows it to extend this attribute to work harder. Expertise COULD involve exploration and prototyping, where customers actively test and help develop new solutions. It's unlikely that any long-term customer invited to test a product in development would see a potential glitch as evidence that the brand lacks expertise.
One meeting participant said this type of strategic thinking was a breakthrough for them. It opens up a whole new array of potential options.
Is your organization laboring under similarly narrow perspectives about your brand attributes?
If that seems to be the case, rethink your narrow definitions of brand attributes. Look at your brand attributes as platforms to innovate, expand, and introduce broader meanings that deliver greater value for your customers.
Or better yet, contact us, and let The Brainzooming Group take you through the business and brand strategy exercises to open your organization to a wide variety of growth opportunities! - Mike Brown
Create the Vision to Align and Engage Your Team!
Big strategy statements shaping your organization needn't be complicated. They should use simple, understandable, and straightforward language to invite and excite your team to be part of the vision.