When you decide to change your routine, you need to be prepared to make do. That can include bending the random into something strategic and on message.
Thus, the photo of the monkey, the cow, and the pig.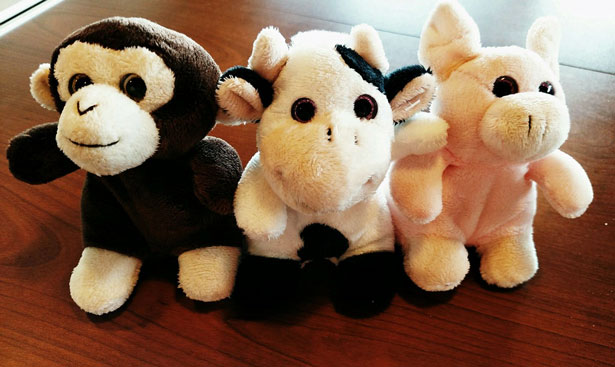 Heading to Chicago last week for a first in-person strategy workshop with a new client, I didn't bring toys. Part of it was saving space. Part of it was being cautious working with a new client on a second-chance engagement and not wanting to start on the wrong foot. Part of it was wedging too many trips and separate client engagements into a seven-day period and neglecting to put toys on my travel checklist.
Dining with our client contact the night before, she mentioned her promise to the company's CEO that the 1/2-day workshop would involve fun strategic planning. I told her I hadn't brought any toys along, but that I would visit a store on the walk back to my hotel and buy some toys.
I mean, anything for fun strategic planning!
Fun Strategic Planning and 3 Stuffed Toys
This commitment to our client took me to Walgreens on Michigan Avenue in Chicago. I scoured the store for squeeze balls that the executives could safely throw at each other. Finding none, I bought these three stuffed toys, all of which originally had "I Love Chicago" shirts.
The next morning, as we set things up for the strategic planning workshop, I told the clients that each of the stuffed toys had a special purpose that they could call on to guide the workshop:
The monkey was for situations where I was moving quickly, and they wanted to spend more time. They could pick up (or throw) the monkey to signal the need to monkey around with ideas a little longer.
The bovine was for when we hit a sacred cow issue that needed to be challenged and not simply accepted as imperative.
The pig was for wildly innovative ideas that we should consider at future workshops, but were bogging down our progress since, at least right now, these ideas would only happen when pigs fly.
The moral of this little fun strategic planning story?
I didn't have all those roles figured out when I bought the three stuffed animals. As I was shopping, it occurred to me that they should have some reason for being at the workshop. Using one of our core analogy-finding questions provided the basis to turn these random stuffed toys into a part of a strategic planning workshop.
Those connections were, in this case, part of turning a regular meeting into fun strategic planning. That's what Brainzooming does! – Mike Brown