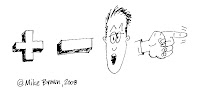 I talk all the time about the value of doing a PMIR. It's an Edward de Bono-based exercise to look at the Plusses, Minuses, Interestings, and Recommendations for an event or project.
Its benefits were underscored the other day. Stuart Fedt from the local BMA chapter was checking up to see what had come out of speaking to the group in March. My first reaction was, "Not much." Then I started thinking about it for the first time, because I hadn't done a PMIR after the luncheon, prompting the realization that the appearance had created:
Source material for several blog posts and an innovation session at Baker University
An occasion to catch up with a number of former colleagues, including generating 3 posts from two guest bloggers (John Burton and Barrett Sydnor)
Lunch with Barrett and an offer to talk at his sales management class at KU this summer
Invitations to speak at the National Association of Women Business Owners on June 18 (from Amy Hoppenrath) and to do two appearances with Jay Liebenguth on his 1510 AM radio program
A request from another organization for help in thinking through a customer event it was planning
So despite the first reaction, this event prompted perhaps more good things than any speaking engagement in a long time. Something I'd have realized much sooner if I'd have just done what I tell everybody else: create a PMIR. Lesson learned.