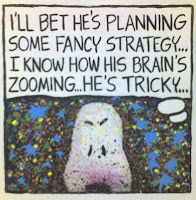 Perusing other blogs, one featured an annual favorite articles icon where the blog author shared a retrospective of stories throughout the year.
Since many readers started following Brainzooming during the year, it seemed like a fun idea to adopt. Here are my 10 favorites from the past 12 months:
December 26, 2007 – Aunt Ollie's Strategy – A wonderful demonstration that great strategy shouldn't be complicated or confusing. This real-life story about going to visit my aunt during the Christmas holiday is a favorite because it's become the closing piece for my strategic thinking presentations.
January 11, 2008 – How Fast? vs. Half-Assed – This relationship was drawn several years ago amid frustration over an unrealistic deadline coupled with an expectation for outstanding quality. The idea actually sprang from someone asking, "How fast?" but it hitting my ears as, "Half Assed." The sketch sat in a folder as a "good idea" with no outlet until starting the blog.
January 14, 2008 – Why Do You Persist in Playing the Organ Weakly? – I took a little heat over this article about how bad the organist is at our Church. The article came about after personally snapping due to her inability to play even common Christmas songs. Imagining myself in her place, I considered options available to improve. It hasn't worked, because she's gotten worse during the year. Now, I'm offering it up.
February 29, 2008 – What Would You Do with an Extra Day? – I hate it when great people leave. But often it's the right thing for them, even though it's painful. This column's theme came about because a great co-worker and friend picked "Leap Day" as her last on the job. I wanted to express my appreciation of her growth, my hopes for her future, and cause a few tears. Several people said it delivered on all three!
March 28, 2008 - Periodic Table of Corporate Behavior – This came from a conversation about "periodically" exercising. Somehow, that spawned contemplating if you could label behavioral compositions at work as we do chemical compositions in the periodic table. It seemed hilarious to me and is among the blog's most frequently viewed pages. It just never generated much activity with people submitting behavioral formulas for co-workers or famous business people. Just figured out the March 28, 2009 column!
May 30, 2008 – Fixing the "Hail Mary" - This is a fave because it involves spirituality and is the most farfetched piece this year: imagine improving something 450 years old because someone with completely fresh ears misunderstood what everyone else was saying. A great testament to actively soliciting fresh perspectives and not always doing things the same way every time.
June 20, 2008 – "The Starry Night" – A story I'd been telling people informally for several years about a truly wonderful, creativity-enriching teacher. Once again, the blog provided the opportunity to finally share it with the broader audience that Matt Barr's creativity deserves.
August 29, 2008 - "It's a Masterpiece!" – Another real life occurrence. A parent, who could have been gruff, impatient, or indifferent, excited his child beyond belief and reaffirmed the young guy's creativity by giving him the best possible answer to a question about his drawing. The young man was so full of creativity, he inspired another post with his fun questions during our flight to Washington, D.C.
September 22, 2008 – Giving the Bride Away – Attending our niece's wedding inspired a variety of posts about expertise, branding, and seeing things from different perspectives (i.e., backwards at 65 mph). This post started the week, touching on the unconventional life Valerie's created for herself and the learning opportunities it provided her uncle, who was able to do something he never thought he'd do: walk the bride down the aisle!
November 17, 2008 - Pumpkin Carving Squirrels – Number ten is probably my favorite because of its surprising ending and my sense of utter stupidity. I'm very willing to admit when someone is more creative than me, even if they are only seven inches tall!
Enjoy the look back! Thanks for your readership and here's to a 2009 full of innovation and great successes!