You have heard the old business joke about the pig and the chicken's different levels of commitment to breakfast?
When it comes to ham and eggs, the chicken is supportive, while the pig is committed.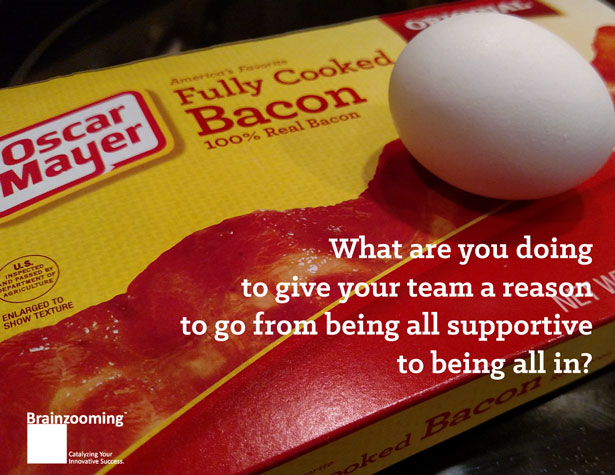 It may be an old and tired story, but it still illustrates an important point about engagement and the willingness (or unwillingness) of employees to go all in with a new business initiative.
The thing is, unsuccessful employee engagement strategies are not an employee problem.
It is a LEADERSHIP problem when purported employee engagement strategies are not working. It means leadership has not made a credible case for WHY employees will benefit from going beyond the bare minimum to justify going all in to make company initiatives successful.
We see great leaders among our clients successfully taking steps that meaningfully involve employees in shaping strategy and implementation. These leaders respect differences completely, ask questions honestly, listen attentively, adapt credibly, and explain thoroughly.
That is a formula that works for employee engagement, and it is one reason we shared our Brainzooming buy-in manifesto.
If you want to go deeper on a viable strategy to improve employee engagement, download our Results eBook. It highlights an approach for more collaborative strategy that provides employees with a real opportunity to contribute their ideas and be a part of actively contributing to your organization's direction. - Mike Brown
Leaders need high-impact ways to develop employees that can provide input into strategic planning and then turn it into results. This Brainzooming mini-book, "Results - Creating Strategic Impact" unveils ten proven lessons leaders can use to boost collaboration, meaningful strategic conversations, and results.
Download this free, action-focused mini-book to:
Learn smart ways to separate strategic opportunities from the daily noise of business
Increase focus for your team with productive strategy questions everyone can use
Actively engage stakeholders in strategy AND implementation success