Based on conferences I attend, there's an opportunity to see many "emerging speakers." These are either executives inside corporations or ones having recently departed. They are in a different experience and style category compared to speakers on the full-time speaking circuit.
This speaking world of emerging speakers is both frustrating and exciting.
It's frustrating when you sit through full-on bores with content that isn't compelling. There's one global B2B company, and every speaker I've seen from it the past few years is arrogant and plainly disconnected from the audience. Their presentations are horrible.
The frustrating experiences are more than offset, however, by the excitement of seeing new, strong presenters speaking from real, ongoing experiences. These are always delightful, and a great reminder about effective presentations skills to try to develop for my own speaking engagements.
I saw one of the latter types of speakers recently: Amy Brusselback, a former P&G executive. She left the corporate world to start Design B&B. Amy's speaking style was a great reminder of three aspirations any speaker should embrace: Be funny, self-deprecating, and quotable.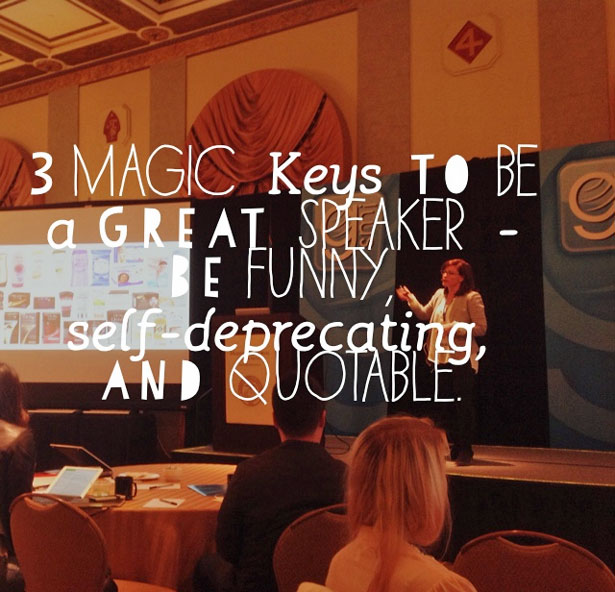 More than 127 Tips for Effective Presentation Skills
Thinking about lessons in effective presentation skills from sitting through both good and bad presenters prompted me to compile the varied Brainzooming content focused speakers. Along the way, there have also been plenty of tips for how conference organizers can facilitate speakers being better. There have also been some for how audience members can involve themselves in getting the most from conference presentations.
Effective Presentation Skills for Various Situations
Effective Presentation Skills – 8 Ways to Put More of You in Your Talks
Effective Presentation Skills – 16 Ideas to Immediately Engage an Audience
TED Talks – Six Ideas for Developing a First Time TEDx Talk
9 Things I Do Give a Damn 'bout with a Bad Presentation
9+ Tips for How Not to Use PowerPoint and Other Creative Presentation Ideas
Keynote Presenter Advice – Don't Do These Things
Effective Presentation Skills – 6 Keys to Successful Last-Minute Changes
5 Things all Conference Presenters Must Stop Doing Right Away
Better Presentations with a Small Audience and a Big Room – 9 Success Tips
Pecha Kucha in Kansas City – 6 Reminders for Better Presentations
7 Steps to Be Ready to Present When Your PowerPoint Fails
Eight Tips for Making a Big Presentation Successful
Presentation Tips – 4 Ideas for Successful, Last-Minute Speeches
Great Presentation Content
Strategic Thinking Lessons – Why Recipes Are Better than Dinner Stories
Presentation Tips – 3 Reasons to Admit You Don't Do Something Well
Presentation Tips – 5 Tips for Creating Photogenic Slides
16 Creative Ways to Supercharge Presentations
Creative Thinking – The 25 Stages in Creating a New Presentation
Create Lasting Memories in Online Events – 10 Ways to Do It
The Value in Presentations
Strategic Thinking Question – When Does Free Become Getting Paid?
Strategic Thinking for Your Career – What Free Speaking Engagements to Do?
Free Speech? Try a "Fair Trade" Speech Strategy Instead
How Organizers Can Help Speakers Be More Successful
5 Ways to Help a Speaker Deliver a Successful Presentation at Your Event
Event Strategy – 5 Ideas for Generating Applause When You Need It
The Audience Role in Presentations
Creative Ideas – A Memorable Way to Meet Conference Speakers
5 Strategic Thinking Questions for Integrated Listening
8 Warning Signs a Professional Development Conference Could Be a Stinker
Is a Smart Presenter Always Better?