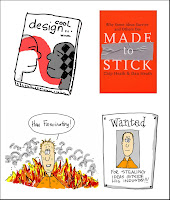 This is part 2 of highlighting some of the creative inspirations behind my presentation on "Taking the NO Out of InNOvation." As the first reference below suggests, improving your creativity is linked to your ability to change, adapt, and customize various inspirations to address your opportunities.
Which leads to a big thank you to Jessica Myers, a senior media relations specialist at Garmin, for the inspiration to start a blog. I saw her present at an IABC Communications Summit in October 2007 on how easy it is to get a blog started. I thought I'd check it out, and was launched into the blogosphere.
That's how a presentation comes together, with a tremendous number of great inputs & ideas that get molded (ideally) into a cohesive message. Enjoy checking out the links as potential departure points for your own new inspirations. And realize - it's actually more creative to REMEMBER your sources. That way you can go back and borrow from them again and again!