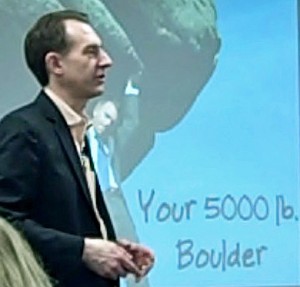 Over the holiday, I had a major revelation: I may be the toughest boss I've ever had. Not the toughest in terms of being difficult, tough to read, or vindictive, but the toughest boss in terms of having ridiculously high expectations. I'm at the Business Marketing Association Unleash conference this week in Chicago. It will be a great learning experience, Seth Godin is doing a luncheon session, and there are a variety of panels on creativity, innovation, and other topics presented by lots of great business-to-business practitioners. It's not a financial stretch for me to attend, and it's a great opportunity to be away from the office and soak in a lot of stimulating marketing and business content.
Yet Monday night, before leaving, I told Cyndi of my concerns about not getting the full value out of the Business Marketing Association Unleash experience. Perhaps it was not being diligent enough about scheduling pre- and post-conference appointments to use every minute of time while in Chicago. Maybe I won't make THE contact I'm supposed to or will pick the wrong breakout session instead of the one which would be most valuable. It could be not striking up conversations effectively when presented with opportunities to do so.
Wow.
If a boss had ever dumped all that negativity on me before going to a conference, I'd have tried to get away from him or her as quickly as possible.
Yet, I dump all that damaging talk on myself almost as if it's the most normal thing in the world to do.
You can't run away from yourself, though. You have to simply reflect on what you've done well in similar situations previously and realize you're still the same "you" who created success before.
And keep telling yourself about it over and over.
How about you? Do you ever feel like you're the toughest boss you've ever had? If you do, how do you deal with it? – Mike Brown
The Brainzooming Group helps make smart organizations more successful by rapidly expanding their strategic options and creating innovative plans they can efficiently implement. Email us at brainzooming@gmail.com or call us at 816-509-5320 to learn how we can help you enhance your brand strategy and implementation efforts.