Creativity has been the theme here the past week, and it carried over to an appearance on Intrepid Radio hosted by my good friend, Todd Schnick. During the show (dubbed "The Brainzooming Episode" by To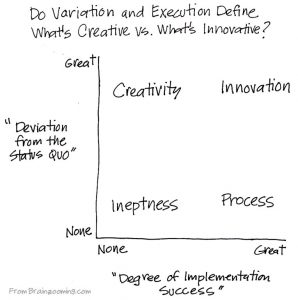 dd), we talked about a variety of creativity-related topics, including:
Why certain people are unwilling to share creative ideas as they're being formed
Differences in triggering organizational vs. personal creative awakenings in business
How "Sgt. Pepper's" by The Beatles was innovative while The Who's "Lifehouse" was creative
This last discussion about the difference between "creativity" and "innovation" that Todd raised prompted the chart at the right.
In our discussion, Todd shared his view that something is innovative only when it's successfully implemented. While I've certainly considered "deviation from the status quo" as a common characteristic of "creativity" and "innovation," I've not considered successful execution as a dimension to separate the two. It's an intriguing idea though, and one, as I told Todd, I'll be thinking about for a while. Visit Todd's website to download the "The Brainzooming Episode," or you can also find Intrepid Radio on iTunes. – Mike Brown
To tap into your own extreme creativity, download the free Brainzooming ebook, "Taking the NO Out of InNOvation" to enhance your creative perspective! For an organizational creativity boost, contact The Brainzooming Group to help your team be more successful by rapidly expanding strategic options and creating innovative plans to efficiently implement. Email us at brainzooming@gmail.com or call us at 816-509-5320 to learn how we can deliver these benefits for you.