The April 2015 Psychology Today has a story on Tania Luna. Ukrainian-born and Brooklyn-based, Ms. Luna is a "Suprisologist."
What, you might ask, is a Surprisologist?
At least I asked that question.
As a Suprisologist, she has her own company, Surprise Industries, devoted to creating unique surprises for its customers. Luna has also co-authored a book, "Surprise: Enhance the Unpredictable & Engineer the Unexpected" on the importance of surprise.
Luna admits in the interview that she definitely has had a preference for control during her life. She links this, at least in part, to an unpredictable environment as a child. Controlling things and having a "no surprises" outlook was a coping mechanism to feel "safe and secure and in charge."
Why My Personal Life Is No Surprises
Her admission caught my eye. I operate between an appreciation for surprise and a living situation causing me to go to extreme measures to make sure there are "no surprises" because of the harm they could cause.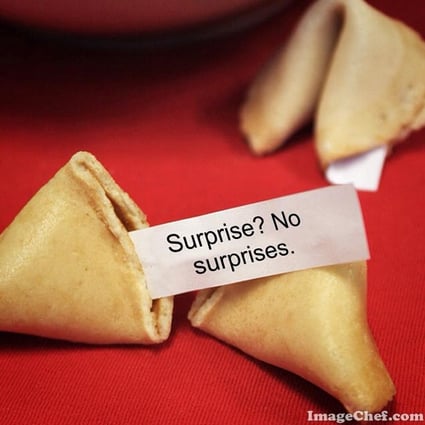 My wife has Fibromyalgia and related health issues. This includes particularly harsh reactions to many foods and environmental conditions. As a result, the "unexpected" is bad.
One extreme example?
My wife offered to visit a seafood restaurant I wanted to try even though she can't eat seafood any longer. We went during a happy hour and grabbed a seat at the bar. She scoured the menu to find SOMETHING she could eat and settled on onion straws as the only option. When the waiter brought our food, she took two bites and said, "I don't think these are onion straws." Her neck was already turning completely red and she was having trouble breathing. The bartender admitted he had mistakenly served her calamari.
We quickly paid and headed to a drug store. She was moving too far along in the food reaction, though. I drove like crazy to a nearby hospital emergency room where they gave her intravenous medicine to counteract the reaction. As I told the restaurant owner when we met him later at an event, "Your bartender's mistake could have killed me wife."
These types of possibilities are why everything is about no surprises and making sure unexpected events aren't part of our life.
Any restaurant we visit has to be a familiar, "safe" restaurant (knowing they can become "unsafe" via an unannounced recipe change). Nights out at a concert or a movie are subject to cancellation or being cut short because of health issues, so we stay home. We can't travel together because of her discomfort and concerns about being away from the coping structure home offers. Even trying to do something nice for her that's not pre-approved can backfire in a big way.
It's ironic.
While extolling the benefits of new experiences on creative thinking, the most important relationship in my life is focused on avoiding surprises, changes, and unexpected events.
Creative Thinking and Surprises
I find myself thinking a lot about how to keep things new for me since it's an essential part of our livelihood, while maintaining the view I've always had about our relationship as a team. That means not maintaining separate lives, even if it results in staying home because we CAN do that together.
One counter approach to boost my creative thinking reserves is putting myself in other peoples' hands that are familiar with being adventurous whenever I'm doing something for business. If it's a lunch, I suggest someone else pick an unusual restaurant. If it's a meeting, I want to go to unusual locations. I seek out new churches at home and on trips for daily mass (although returning to the same churches years later, you see the same faces in exactly the same pews).
Now you see why a Surprisologist intrigues me so much.
The search for surprises in the narrow part of my life that doesn't have to be "no surprises" needs the intriguing attention a Surprisologist could deliver! – Mike Brown
Download the free ebook, "Taking the NO Out of InNOvation" to help you generate fantastic creative thinking and ideas! For an organizational innovation success boost, contact The Brainzooming Group to help your team be more successful by rapidly expanding strategic options and creating innovative plans to efficiently implement. Email us at info@brainzooming.com or call us at 816-509-5320 to learn how we can deliver these benefits for you.