How thoroughly do you understand what triggers your creative thinking skills?
If you need to be (or it FEELS like you need to be) on top of your creative thinking game all the time, you don't want to become stuck in the creative doldrums without an answer for how your next idea will emerge.
Here's a 10-minute trick to inspire your creativity when you REALLY need it.
And it isn't just for people in jobs seen as "creative." This works for executives, content creators, or anyone else who simply needs the inspiration to routinely come up with new ideas – big or small.
A 6-Question Inspiration Inventory
When you need new creative thinking, you want to be able to rapidly construct a situation to support creativity, even if it seems as if you're feeling anything but creative at that moment.
Here's one answer to doing this.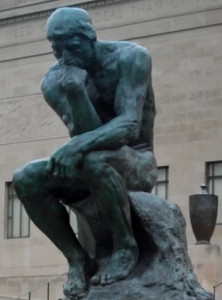 Take ten minutes when you ARE feeling creative and begin answering these six who-what-where-when-why-how questions about your creativity:
What situations inspire you?
Where can you go to refresh your creative thinking?
When do you feel like you're at your strongest creatively?
Why does your creativity flourish when it does?
How have you triggered new creative thinking before when you've been stuck?
Then some other time this week, take another 10 minutes to add to this inspiration inventory; do it again a few days later, too.
After a couple of rounds of noodling on these creative thinking questions, you'll have created an incredible creativity menu you can use to push yourself out of the creative doldrums we all face. You can use a single idea or a combination of items from your inspiration inventory routinely or when you most need a particular creative thinking boost.
Creative Thinking Skills and Your Inspiration Inventory
Working on your personal inspiration inventory will be the best 30 minutes you invest in your creativity all week.
And as someone who has to come up with five or more new blog ideas weekly, plus new ideas for clients daily, and for other activities, trust me: an inspiration inventory works wonders! – Mike Brown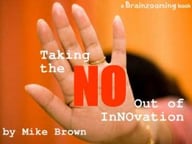 Download the free ebook, "Taking the NO Out of InNOvation" to help you generate fantastic creative thinking and ideas! For an organizational innovation success boost, contact The Brainzooming Group to help your team be more successful by rapidly expanding strategic options and creating innovative plans to efficiently implement. Email us at info@brainzooming.com or call us at 816-509-5320 to learn how we can deliver these benefits for you.