It's the time of year where you have already presented your overall strategy for this year. For most companies, the focus is now on further developing, refining, and sharing more detailed business strategy plans.
If this is the case in your organization, your senior team is likely sitting through multiple business strategy presentations.
No matter how invested (financially or otherwise) the senior team members may be in the initiatives, it's easy for PowerPoint overload to make the business strategy presentations run together for them.
Applying Creative Thinking Skills to a Business Strategy Presentation
To enhance your deliver, here are nine ways to present a business strategy to your senior team with panache.
1. Make a video
Bring people who can't be there into the presentation or add a touch of pre-developed drama or humor by incorporating a short original video to illustrate key themes in your business strategy.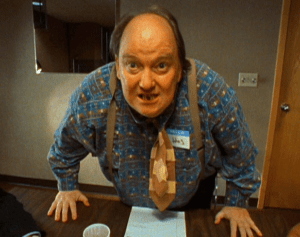 2. Introduce costumed characters
Only go here if you have solid (albeit non-professional) acting talent on your team. If so, introducing a character into the meeting at a key point definitely adds memorability.
3. Perform a song
As with costumed characters, you need talent to make this work. Add lyrics to a popular song to convey the strategic messages you want your senior team to really remember.
4. Go somewhere spectacular for the presentation
"Spectacular" is relative. Perhaps presenting your business strategy at a museum or other creativity-inducing spot will make your ideas stand out. If you can arrange a truly spectacular option (either based on geography or setting), it could be a solid investment.
5. Write a magazine article from the future covering the plan's success
With a longer-term business strategy, you can create a feature article from a future business magazine issue to report how much better and different things have been based on implementing your recommendations.
6. Wrap it in education
If your area of responsibility includes social media or other technical areas unfamiliar to your senior team, attach an educational segment to the business strategy presentation. A smarter audience will be better prepared to understand your business strategy.
7. Feature your customers - in person or virtually
To provide a better sense of the customer needs you are addressing, invite customers into your business strategy presentation in-person or through phone, online, or video channels.
8. Translate the strategy into stories and pictures
You cannot necessarily put elaborate stories and pictures together at the last minute. This approach does provide a little more time flexibility, however, than video or presenting in alternative locations. Poll those involved in your business strategy for both stories and images to illustrate how you are creating strategic impact.
9. Make it into a game
Create a Jeopardy grid with subjects and relevant answers, putting strategy categories at the top. Then use the "answer is a question" format from Jeopardy to create a menu of choices your senior team can use to focus where they want more information on your business strategy recommendation.
How much panache are you up for with your business strategy presentation?
And yes, I've used all of these previously, so they're road tested in varying shapes and sizes, including creating a movie of our company's new vision, presenting the new plan at Arrowhead Stadium, and publishing a faux Business Week article covering our industry from five years into the future.
How are you thinking about presenting your business strategies this year? - Mike Brown
"How strong is my organization's social media strategy?"
Is your social media implementation working as well as it can? In less than 60 minutes with the new FREE Brainzooming ebook "9 Diagnostics to Check Your Social Strategy," you'll have a precise answer to this question.
Any executive can make a thorough yet rapid evaluation of nine different dimensions of their social media strategies with these nine diagnostics. Download Your Free Copy of "9 Diagnostics to Check Your Social Strategy."